Mission
UNICEF office in Georgia opened in 1993. UNICEF Georgia, in collaboration with other UN agencies, supports the government of Georgia in carrying out national social reform in the area of child care, health and education and in achieving Millennium Development Goals. The Basic Cooperation Agreement signed between UNICEF and the government of Georgia on 3 December 1999 provides the basis of the relationship between the government and the organization.
The 2011 - 2015 programme of cooperation between the government of Georgia and UNICEF focuses on the following areas:
a) Integrated and Inclusive Systems for Children and Social Policy;
b) Child Rights Monitoring and Communication. Emergency preparedness and response, which has disaster risk reduction as its key underlying principle, is an integral part of each programme component. UNICEF's main partners include central and local governments, UN agencies and international organizations and donors, as well as NGOs and media.
Disaster Reduction Goal
UNICEF in collaboration with the Ministry of Education and Science of Georgia (MES) and the Emergency Management Department of the Ministry of Internal Affairs (EMD) is implementing "Supporting Disaster Risk Reduction amongst Vulnerable Communities and Institutions" project funded by the Disaster Preparedness Program of the European Commission Humanitarian Aid and Civil Protection (DIPECHO).
The project aims to contribute to increased resilience and reduced vulnerability of children and communities in areas prone to natural hazards.
The key result areas of the project are the following:
a) By end 2013, national and local authorities and other DRR stakeholders achieve common understanding of DRR, and support DRR investments in education policies and programming.
b) By end 2013, the capacity of national and local authorities and other DRR stakeholders, school administrations, teachers, and youth to implement DRR in education activities has increased.
c) By end 2013, selected schools undertake disaster preparedness and risk reduction effectively.
During the first DIPECHO phase implemented in 2010-2011, UNICEF supported MES in integrating child-focused disaster risk reduction educationn in the national curriculum. As a result, children in grades V-IX now learn once per week with interactive methods about environmental protection, climate change and disaster risk reduction, including how to behave before, during and after a disaster.
Membership in Key Networks
DRR think-tank
Education, information and public awareness (HFA 3)
Mainstreaming DRR in education
Disaster Risk Reduction Focal Point(s)
Nino Gvetadze, Disaster Preparedness and Risk Reduction Officer
Websites
http://unicef.ge/index.php?m=117
www.unicef.org/georgia
9 Eristavi str. UN House, IV Floor 0179 Tbilisi Georgia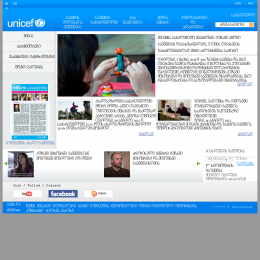 Badges