Mission
Petra development tourism Region Authority is a legal, financial and administrative independent Authority, founded in 2009 and aims to develop the region touristy, economically, socially, culturally, and contribute to local community development.
Disaster Reduction Goal
Enhanced capacity of government and Civil Society organisations (CSOs) to prevent, respond to and mitigate natural and man-made disaster.
Policies and Programmes in DRR
Enhancing Institutional Capacities to reduce Disaster Risk and to integrate Climate Change in the region which includes:
1-Integrated Risk Assessment
2-Setting up an Early Warning System for Flash Floods
3-Petra Neighborhood Disaster Volunteers
4-Making Petra Resilient Citys .. Petra Is getting reading
Making disaster risk reduction a policy priority, institutional strengthening (HFA 1)
Integrated Risk assessment for Wadi Mousa City in Petra
Risk assessment and early warning systems (HFA 2)
Setting-up an Early Warning System for Flash Flood
Education, information and public awareness (HFA 3)
Building capacities of local communities, schools, local NGO's
Reducing underlying risk factors (HFA 4)
Reduce the underlying risk factors by land use planning in the area and constructing dams and improving water channels and culverts, building codes, strengthening laws and regulations.
Preparedness for effective response (HFA 5)
Policy, technical and institutional capacities and mechanisms for disaster risk management, with a disaster risk reduction perspective are limited.
Other activities
Petra Neighborhood Disaster Volunteers
Making Cities Resilient Campaign Activities
1-Integrated Risk Assessment project is being implemented in Petra nowadays (Nov 2012-July 2013)
2-Setting-up an Early Warning System for Flash Floods is being implemented in Petra nowadays (Jan-Sept 2013)
3-Disaster Risk Reduction Unit has been established in PDTRA - Directorate of Strategic Planning & Research
Disaster Risk Reduction Focal Point(s)
Eng. Hussein Abbas Alhasanat
Websites
https://www.preventionweb.net
http://www.jo.undp.org
Queen Raina Street P.O. Box 28 Wadi Mousa 71811 Petra Jordan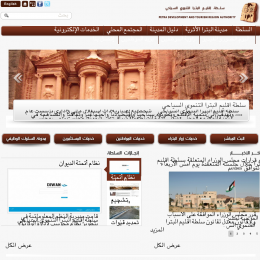 Badges
Conferences:

- 1st ACDRR
- UNISDR Science and Technology Conference
- 2017 Global Platform
- 2019 Global Platform