Mission
The New Zealand Climate Change Centre (NZCCC) is a joint initiative by New Zealand's Crown Research Institutes and three universities (University of Canterbury, Victoria University of Wellington, and Massey University). NZCCC's goal is:
"To enhance the capacity of New Zealand, both domestically and in partnership with other countries, to anticipate, mitigate, and adapt to climate change."
NZCCC facilitates "collaboration to develop, communicate, and apply science-based solutions to climate change-related issues."
c/o NIWA, 301 Evans Bay Parade, Greta Point 6021 Wellington New Zealand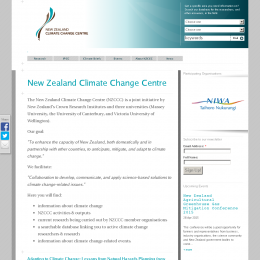 Badges