Mission
Design & development of public warning systems
Alert dissemination of geo-targeted messages in real-time across:
- mobile networks (Cell broadcast, push notification, SMS)
- Fix-telephony (IVR)
- TV
- Radio
- Billboards
- Internet (email, Social Networks, PCs etc.)
- Sirens
System used both by national authorities and municipalities.
Successfully deployed by multiple countries across the globe.
Disaster Reduction Goal
- Collaboration with national and regional authorities.
- Explanation of use cases
- Tailor made approach per region/country
- Consultation
- System demonstration
Disaster Risk Reduction Focal Point(s)
- Public warning
- Alert & information dissemination
- Interactive communication with the target population
Websites
http://www.evigilo.net
http://www.youtube.com/user/evigiloltd
2, Hamelacha street, P.O. Box 8137 42505 Netanya Israel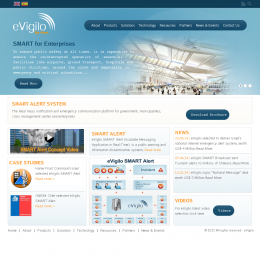 Badges
Conferences:

- 6th AMCDRR