Mission
IUCN helps the world find pragmatic solutions to the most pressing environment and development challenges. It supports scientific research, manages field projects all over the world and brings governments, non-government organizations, United Nations agencies, companies and local communities together to develop and implement policy, laws and best practice.
Disaster Reduction Goal
The new IUCN Programme 2013-2016 highlights the need for "Deploying nature-based solutions to global challenges in climate, food and development". Through its work on Disaster Risk Reduction, the IUCN Ecosystem Management Programme aims to promote integration of ecosystem management, livelihoods, community vulnerability and climate change adaptation to disaster management.
Reducing underlying risk factors (HFA 4)
IUCN reaches HFA priority 4 through various activities, including but not limited to:
- Engaging with the Partnership for Environment and Disaster Risk Reduction (www.PEDRR.net) to promote environmental management for disaster risk reduction, climate change adaptation and sustainable livelihoods.
- Implementing new projects to enhance DRR actions worldwide and provide support on the ground through IUCN regional offices.
- Collecting and disseminating lessons learned about projects and processes that integrate ecosystem management, sustainable livelihoods and disaster risk reduction at the regional level.
- Strengthening capacities and raising awareness through training of policy makers at national and sub-national levels.
- Raising awareness amongst policy makers and donors on the opportunities for green recovery and reconstruction.
Websites
http://www.iucn.org/ecosystems
Rue Mauverney 28 1196 Gland Switzerland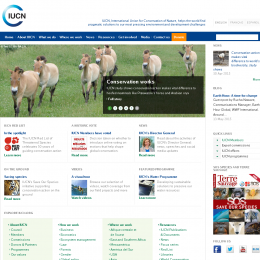 Badges
Conferences:

- 6th AMCDRR
- 6th AFRP and 5th High-Level Meeting on DRR
- 2017 Global Platform