Mission
SM Prime commits to the following mission:
• To constantly provide customers with a fresh and world-class mall experience through innovative and state-of-the-art facilities and services;
• To undertake wide-ranging corporate social responsibility initiatives that provide greater service for customers with special needs, and ensure environmental sustainability through various programs on energy, water and air conservation;
• To be an employer of choice, offering comprehensive opportunities for career growth and enhancement;
• To deliver sustainable long-term growth and increasing shareholder value; and
• To uphold its role as a catalyst for economic development.
Disaster Reduction Goal
SM Prime Holdings acknowledges the positive impact the company can achieve in the communities in which it operates. Thus the company strives to build upon our current efforts, notably in the designs and response policies of our developments, in order to better safeguard our employees and the general public in times of calamity.
The location of the Philippines in this part of the globe bring both advantages and disadvantages to the existence and survival of the state and its people. Through geological events, our country straddles right on the path of typhoons and the "Ring of Fire." Year round, the country is struck by a number of natural disasters such as earthquakes, typhoons, floods, and drought, among others. By geography, the location of the Philippines – being in the crossroad of trade and commerce and having a porous border – offer opportunities not only for legitimate business but for terrorism and criminal activities as well.
Indeed, the vulnerability of the country to natural disasters and man-made crisis necessitates all sectors of the society to be aware, be prepared, and be ready at all times to respond to emergencies. The SM Group of Companies is committed on fulfilling its social responsibility and obligation to create and provide a safer and healthier working condition for its employees, business opportunities for its partners, and shopping environment for its customers and visitors alike at all times. The company believes that while we cannot prevent disasters from occurring, we can, however, mitigate and lessen its disastrous consequences. One way of achieving this is to have a disaster mitigation plan.
Policies and Programmes in DRR
SM Prime addresses the issue of disaster responsiveness by preparing for different types of disasters in various stages. On the larger scope, SM Prime strives to respond to disasters swiftly and comprehensively, so as to promote a quick and efficient recovery process. Through these efforts, SM Prime also strives to minimize the time needed to resume business operations as well as serve as an asset by providing relief aid for affected communities in which we operate.
All employees, and notably our security and engineering departments, participate in frequent training programs to enhance our capacities for life saving and disaster relief across all of our establishments. Moreover all employees are oriented with the SM Prime Employee Disaster Response Handbook, and are reminded of proper response procedures through various memos and internal circulars. Each business establishment also prominently features charts and signages to inform all employees on the proper response procedures, as well as the chains of command, so as to best equip our malls to react intelligently and swiftly to any disaster that may strike.
Through experience, and the continual refinement of our disaster response procedures, SM Prime has effectively responded to a range of disaster scenarios including flood, earthquake, hurricane, terrorist attack, and other forms of attack and criminal activity among others.
Membership in Key Networks
SM Prime fosters and sustains partnerships with the UN Office for Disaster Risk Reduction, key national government bodies, and various organizations to increase our capacity to refine and develop more comprehensive and effective disaster resilience strategies.
• Mr Hans Sy has joined the Private Sector Advisory Group (PSAG) to the United Nations International Strategy for Disaster Risk Reduction, as part of the Disaster Risk Reduction – Private Sector Partnership (DRR-PSP)
• SM Prime maintains close business relationships, and consistent lines of communication, with the Department of Natural Resources and Philippine Institute of Volcanology and Seismology to remain informed on the most up to date data regarding all natural disasters, and gain insight on how to best prepare and respond to these calamities.
• (Data regarding security partnerships/training institutions)
• SM Prime is a member of the Disaster Risk Reduction - Private Sector Partnership (DRR-PSP) and has committed to the 5 Essentials for Business in Disaster Risk Reduction.

Other activities
Sustainability Reporting
Resource Efficiency
Information and Educational Campaigns
Community Engagement Initiatives
SM Cares is a program born to consolidate and coordinate all of SM Prime's corporate social responsibility (CSR) initiatives. Carried out in all the 45 SM malls nationwide, SM Cares' award-winning CSR projects cover the environmental conservation (energy, air and water), and care and assistance to customers of SM malls with special needs such as the disabled, special children, the elderly and nursing mothers. SM Cares is SM Prime's commitment to be one of the country's leading CSR advocates. Broadly speaking, the goal of the SM Cares program is to ensure that SM serves not only as the retail industry leader, but also acts as a catalyst towards positive change in our nation; leading by example when it comes to corporate social responsibility.
SM Cares is comprised of committees on the following advocacies:
Education
Entrepreneurship
Environment
Senior Citizens
Overseas Filipino Workers
Persons with Disabilities
Tourism
Volunteerism
Women and Breastfeeding
Youth and Children's Affairs
10/F mall of Asia arena annex building, Coral way corner, J.W. Diokno boulevard 1300 Pasay City, Metro Manila Philippines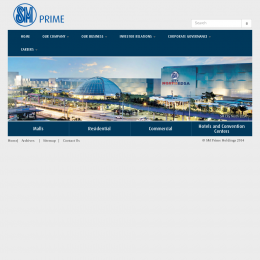 Badges
Conferences:

- 6th AMCDRR
- 2017 Global Platform
- 2019 Global Platform