Your experience on PreventionWeb
Please help us improve PreventionWeb by taking this brief survey. Your input will allow us to better serve the needs of the DRR community.
Prolonged drought threatens Greater Horn of Africa
Source(s):
United Nations Office for Disaster Risk Reduction - Regional Office for Africa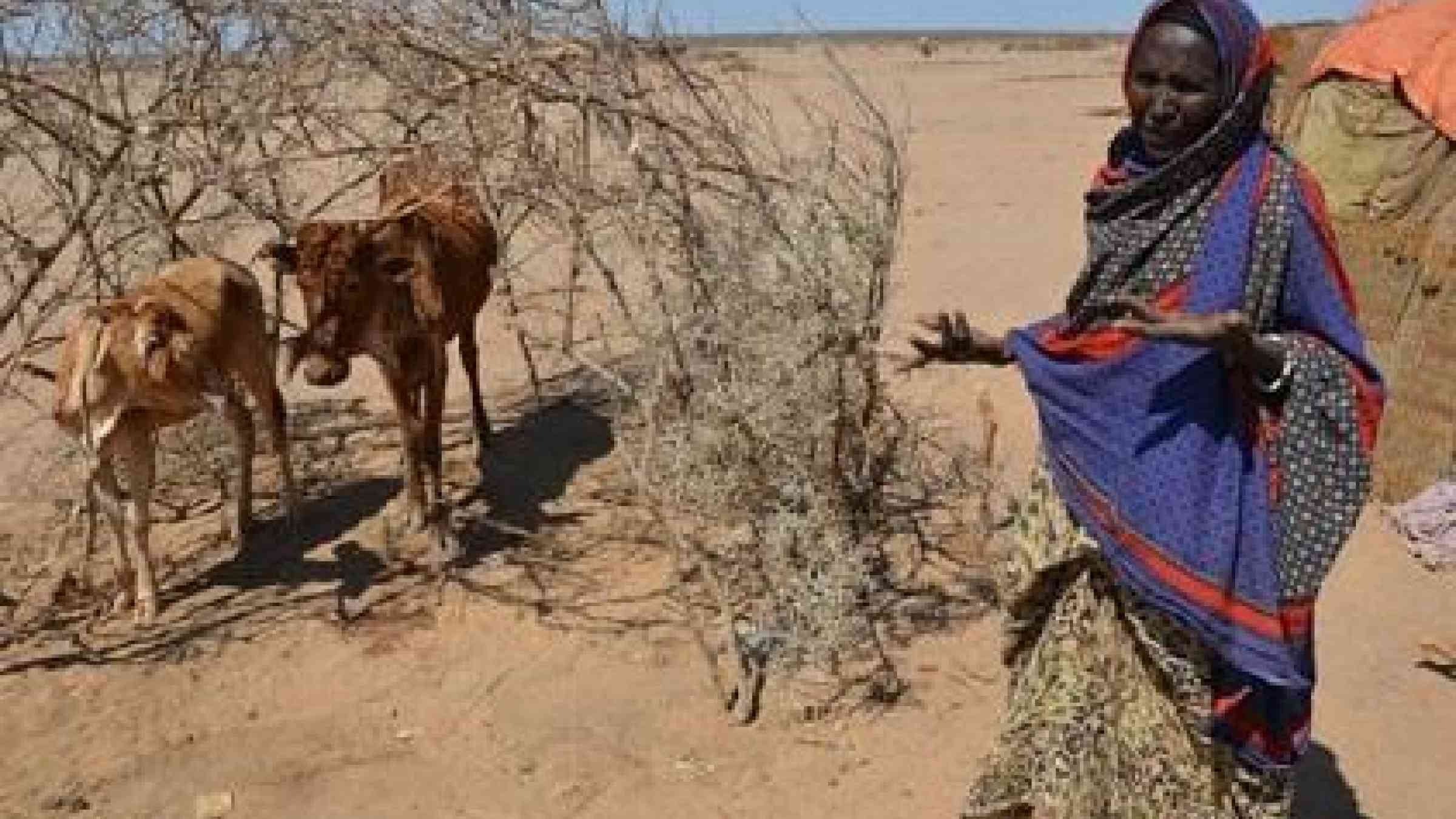 NAIROBI, 21 February 2017 – Already grappling with an extended dry spell, countries in Greater Horn of Africa are bracing for an even deeper drought, with the approach of the traditional March to May rainy season offering little cause for comfort.
Exacerbated by the El Niño weather phenomenon, below-average rainfall is worsening food security and water availability, straining the resilience of communities across the region.
In Somalia alone, the number of people needing assistance has risen from five million in September 2015 to over 6.2 million in February 2017 – more than half the country's population. This includes a drastic increase in those facing "crisis" and "emergency" situations, from 1.1 million six months ago to a projected 3 million between February and June.
The March to May rains are critical for equatorial parts of the Greater Horn of Africa – a region comprised of Burundi, Djibouti, Eritrea, Ethiopia, Kenya, Rwanda, Somalia, South Sudan, Sudan, United Republic of Tanzania and Uganda.
Seasonal rains were already poor in the October to December 2016 season. According to the regional consensus climate outlook for March to May, issued at the 45thGreater Horn of Africa Climate Outlook Forum (GHACOF 45) held earlier this month in the Ethiopian capital Addis Ababa, below average rainfall is expected to prevail. The forum is convened quarterly by regional body the Intergovernmental Authority on Development (IGAD), via its IGAD Climate Prediction and Applications Centre (ICPAC).
The outlook indicates an increased likelihood of below-normal to near-normal rainfall over northern and eastern Tanzania, much of Kenya, southern and northwestern Somalia, much of Djibouti, southeastern Eritrea, northeastern, eastern and southern Ethiopia, southeastern parts of South Sudan, northeastern Uganda and southern parts of Sudan. These regions are likely to face poor harvests and water shortages.  
Kenya has already declared the current drought – affecting 23 counties and pockets of other areas – a national disaster. Nairobi is facing water shortages that have compelled city authorities to ration water until the dams that supply the capital are replenished.
Kenya's President Uhuru Kenyatta has appealed to all stakeholders to support the government by scaling up drought intervention and mitigation programmes. The government's drought mitigation measures include provision of cash transfers and allowing maize importation to stabilise high prices of cereals. 
In Ethiopia, the impact of last year's El Niño coupled with below-average rains in the south and east for two successive seasons has affected up to 90 percent of crops in some areas, with widespread livestock mortality. Water shortages, disease outbreaks and food and nutritional insecurity also persist in some areas.
Ethiopia has appealed for US$948 million to address emergency needs for 5.6 million people this year. While this is almost a 50-percent reduction in the number of food insecure people, which reached 10.2 million in 2016, it remains much higher than the average of the previous three-year period.
Somalia and South Sudan have also declared emergencies, while Uganda shifted some of its development resources to address food insecurity and livelihood protection, mostly in the dry northern region of Karamoja.
For communities forced to live through them, droughts are a way of life that repeatedly test their resilience and resourcefulness. In 2010-2011, drought and famine left tens of thousands dead, more than half of them children under five, while over 13 million people in Djibouti, Ethiopia, Kenya and Somalia needed food assistance.
Early warnings for the current extreme drought have been available for over a year. Erratic rains since March 2016 and continuing impacts of the 2015-2016 El Niño-driven drought compromised both livestock and crop production last year.
UNISDR has been supporting the GHACOFs by bringing national disaster risk reduction managers from ICPAC member countries together with climate scientists. Based on the consensus climate forecasts, the risk managers are then able to formulate mitigation strategies. 
National meteorological and hydrological services are expected to adapt the climate forecast to their own countries' conditions and share climate advisories with users and decision makers. The Climate Outlook Forums therefore provide the required weather-based early warning information.
With support from UNISDR, national governments across Africa have been improving risk knowledge through national disaster loss tracking.
Government agencies, scientific and technical experts in climate change and disaster management and the UN have been familiarised with the methodology and tools for building national disaster loss databases. Five countries in the region – Djibouti, Ethiopia, Kenya, Rwanda and Uganda –have developed such publicly-accessible databases.
UNISDR will continue to strengthen national capacities in the region on risk assessments and modeling. The aim is to develop multi-hazard risk profiles at a national level that will guide investment strategies to achieve risk-informed planning and development.
These support systems have been made possible with funds from the European Commission, both through its Humanitarian Implementation Plan in the Horn of Africa, and a multi-year regional programme being implemented as part of its cooperation with the African, Caribbean and Pacific Group of States.
A substantial increase of multi-hazard early-warning and disaster risk information and assessment is a key target of the Sendai Framework, a 15-year global agreement adopted in 2015.
Reducing risk in vulnerable countries will be in the spotlight in May at the 2017 Global Platform for Disaster Risk Reduction, the world's top multilateral forum on curbing the impact of natural and human-induced hazards.
Please note: Content is displayed as last posted by a PreventionWeb community member or editor. The views expressed therein are not necessarily those of UNDRR, PreventionWeb, or its sponsors. See our terms of use