Updates
ANNOUNCEMENT: Launch of an online training course on building business resilience in the face of COVID-19 for small and medium enterprises
Source(s)
United Nations Office for Disaster Risk Reduction - Regional Office for Asia and Pacific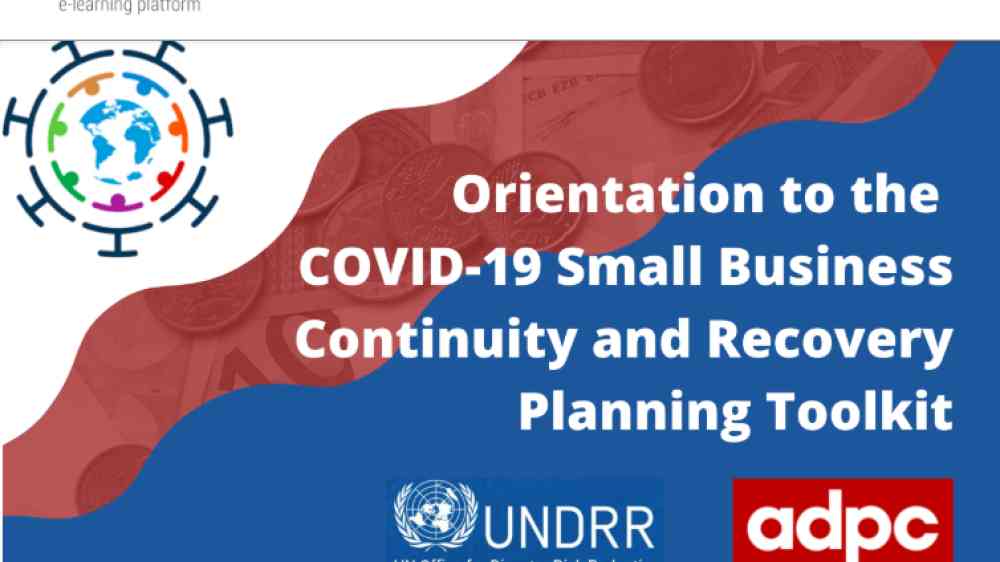 BANGKOK - The Regional Office for Asia and Pacific of the United Nations Office for Disaster Risk Reduction (UNDRR), in collaboration with the Asian Disaster Preparedness Center (ADPC), announces the launch of an online training course to help small and medium enterprises (SMEs) build their business resilience in the face of the COVID-19 pandemic.
The course is an orientation to the COVID-19 Small Business Continuity and Recovery Planning Toolkit, which provides guidance to small business owners on how they can protect their staff and customers while adjusting their business operations to the "new normal." The course is designed to complement the Toolkit and help business owners and managers complete its planning exercises.
The online course is self-paced and consists of narrated short videos in English. Upon completion of the course and a brief quiz, users will receive a downloadable certificate.
Course enrolment is now open: https://courses.adpc.net/courses/course-v1:UNDRR+COVID19SBCR+2020/about
This training course is the latest offering from UNDRR's Regional Office for Asia and Pacific in support of private sector partners in the region.
On 10 April 2020, UNDRR published its COVID-19 Small Business Continuity and Recovery Planning Toolkit, which is now available in English, Chinese, Thai, Indonesian and Japanese, with more languages in development. The Toolkit can be downloaded at undrr.org/bcp-ap
This was followed on 23 April 2020 with a webinar on business resilience. The video of the webinar can be accessed online: https://www.undrr.org/event/webinar-business-resilience-face-covid-19
For a more detailed review of the challenges and opportunities presented by COVID-19, we encourage policymakers and business owners to review our regional brief, which was published on 15 May 2020: https://www.undrr.org/publication/undrr-asia-pacific-covid-19-brief-business-resilience-face-covid-19
Please note: Content is displayed as last posted by a PreventionWeb community member or editor. The views expressed therein are not necessarily those of UNDRR, PreventionWeb, or its sponsors. See our terms of use