Global Platform to Feature World Reconstruction Conference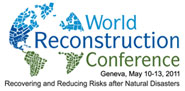 The Third Session of the Global Platform for Disaster Risk Reduction will host a World Reconstruction Conference (WRC) from May 10 to 13, 2011. Together with other partners, the WRC is being organized by the World Bank, Global Facility for Disaster Reduction and Recovery (GFDRR), and United Nations International Strategy for Disaster Reduction (UNISDR).
The WRC will be the first large-scale global conference focused on disaster recovery and reconstruction. It is anticipated that the Global Platform, along with the WRC, will bring together over 2,000 leaders, experts, policy makers, and practitioners, from government, international organizations, NGOs, academia, and the private sector from both developing and developed countries to collect, assess, and share disaster risk reduction, reconstruction and recovery experiences. The WRC aims to take forward the policy dialogue for an effective international disaster recovery and reconstruction framework.
***************************
The World Reconstruction Conference will also be hosting a global Innovation Competition together with the Global Platform on Disaster Risk Reduction.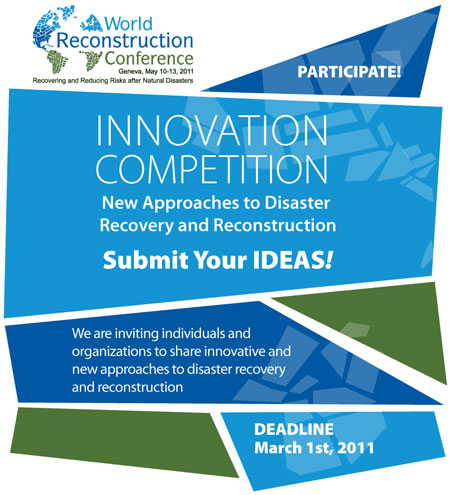 To participate or for more information please visit
http://www.wrc-2011.org/wbwrc/wrc_conf_competition.html