While Philippines has a sophisticated network of sensors to monitor climate and geophysical hazards, people with disabilities continue to face significant challenges when disasters hit.
Over 100 sensors monitor weather, water and earth movements across the typhoon and earthquake-prone province of Cebu in the Philippines. The data can reportedly warn of potential life-threatening hazards up to nine hours before they occur. But even with sophisticated set-ups like this, people with disabilities continue to face significant challenges when disasters hit.
Corazon Bajuyo Clarin, the convenor of the Cebu Disability-inclusive Disaster Risk Reduction Network knows all about these difficulties. 'It's hard for me to even run to ask for help,' she says. 'Or to move around and reach out for things if I'm not prepared.'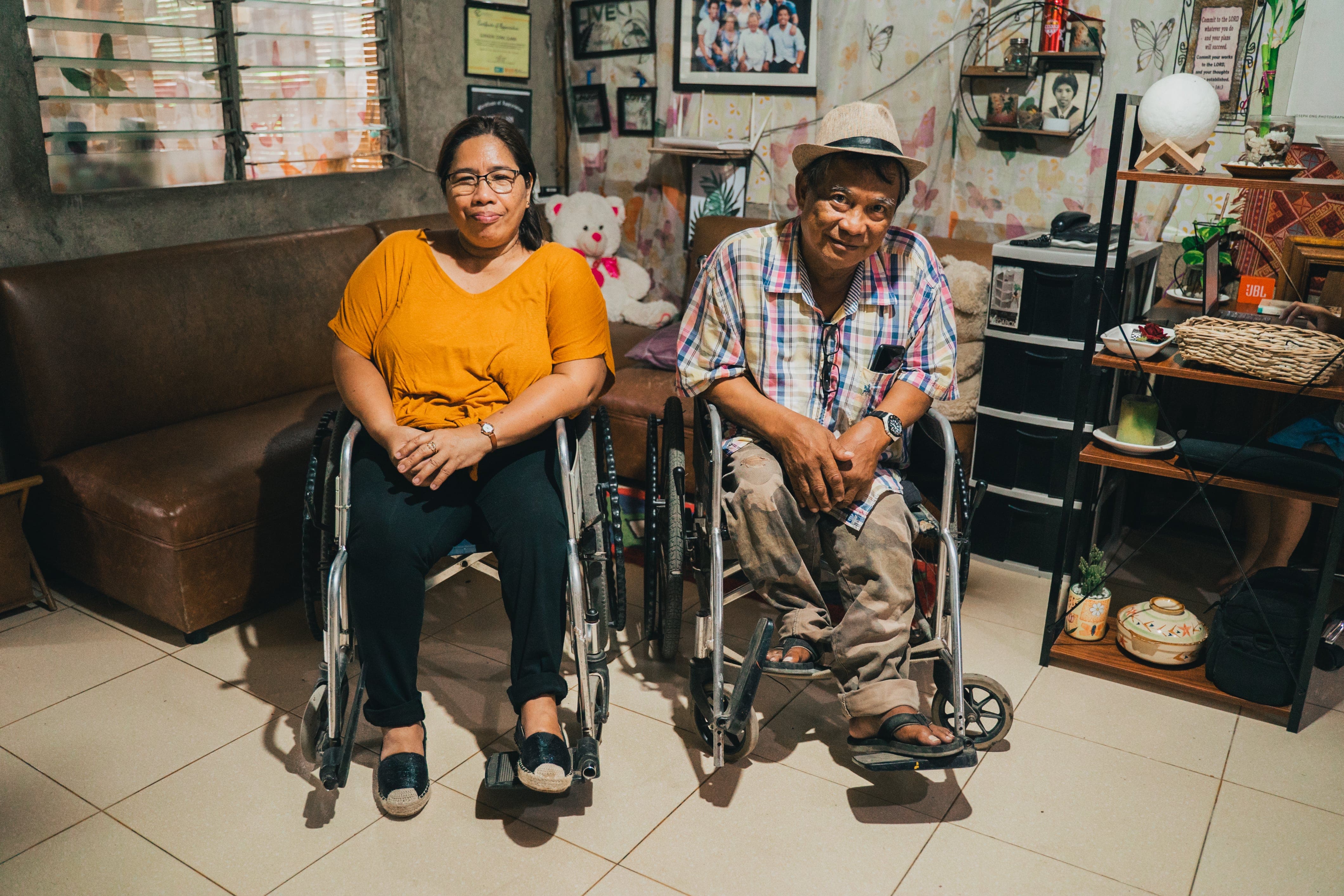 Cora and her husband Peter Paul A. Clarin at their home January 8, 2021. Source: GNDR
After contracting polio in her childhood, she spent her first seven years unable to walk. Her brothers carried her to school. She was openly bullied on the street. The 62-year-old still has reduced mobility and makes use of a wheelchair.
'Eighty percent of people with disabilities would be unable to evacuate immediately without difficulty in the event of a sudden disaster,' Clarin says. Persons with disabilities are more likely to be left behind or abandoned during disaster evacuations because there is insufficient preparation and planning, as well as inaccessible facilities and services.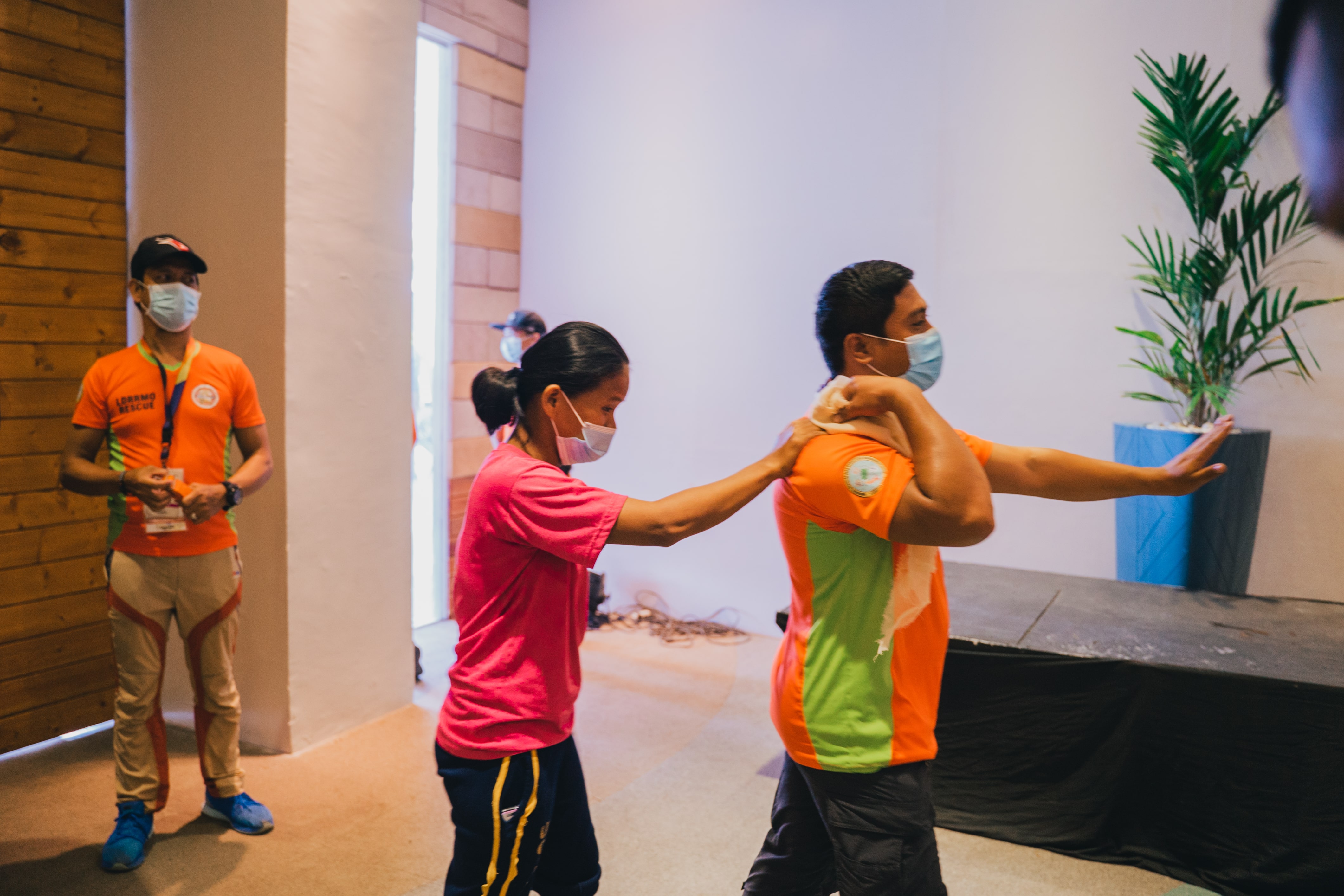 Training session with Cordova LDRRMO Rescue of how to lead a blind person during a rescue scenario. Woman: Tessie Casquejo Man: ROMEO PEDERE Location: Solea Palms Resort Function Room January 8, 2021. Source: GNDR
Her involvement in DRR began after Typhoon Haiyan hit the country in 2015. She witnessed the experiences of people with disabilities both during and after. A passionate advocate for disability inclusion, she now leads a team of people that provide training to government and public sector workers on how to mainstream inclusivity into disaster preparedness.
Many solutions are simple: early warning alarms should not only use sound – a flashing light can warn visually impaired people of impending hazards. Evacuation routes need to be accessible to people with reduced mobility. Disaster preparedness training should be delivered in sign language, and public resources made available in audio or large text format.
Awareness is often the starting point of inclusivity. The team of trainers is made up of people with disabilities. Marvelous Jorda, a visually impaired trainer, prompts participants to consider how a blind person might evacuate during a fire. Mariah Agbay, a trainer with a hearing impairment, teaches the essentials of sign language. 'Police and government representatives should know how to communicate with us,' she says.
Julian Randdrieu Legas, a DRR officer with the Cordova municipality admits that before the training they didn't have any idea how to handle persons with disabilities.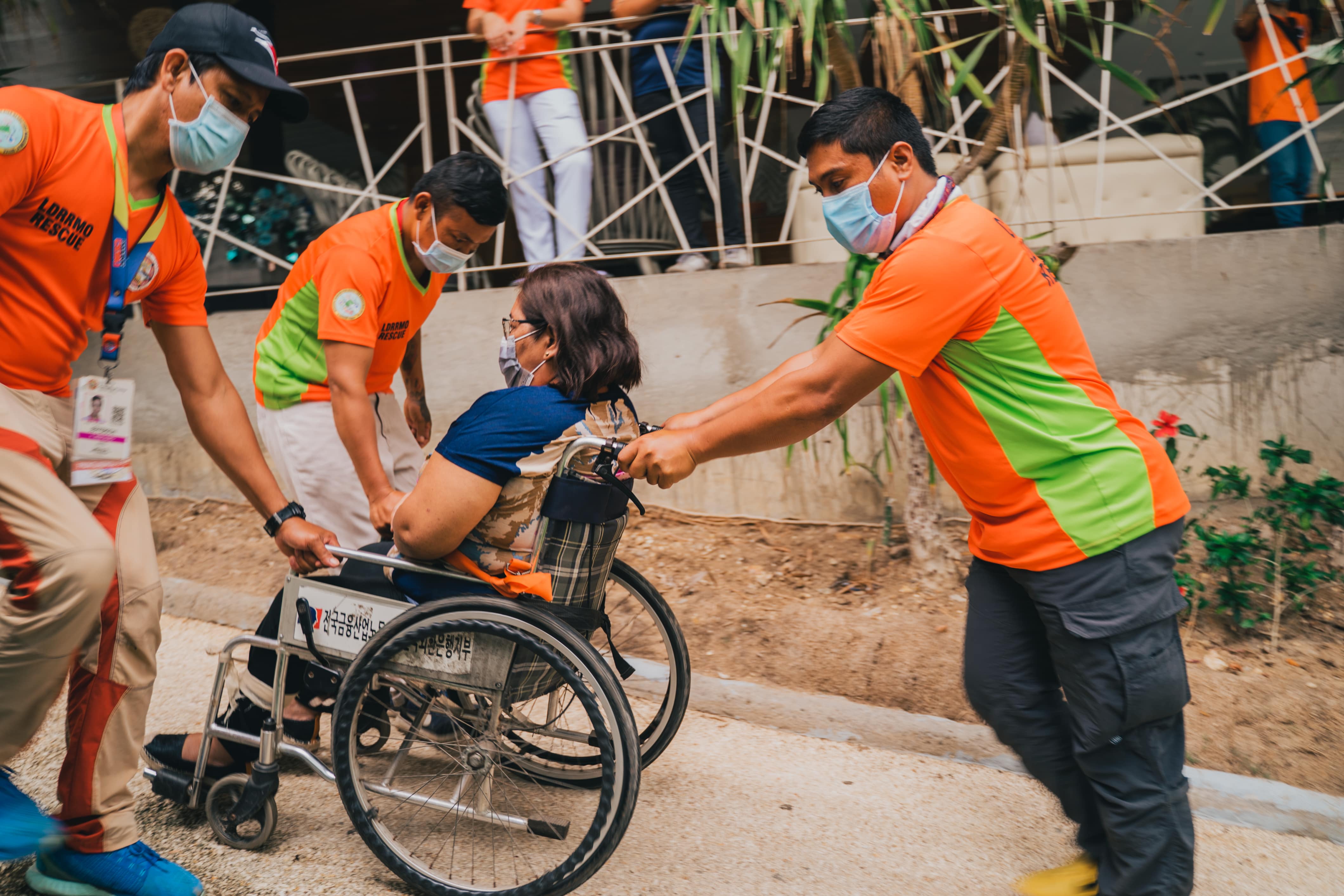 Cordova LDRRMO Rescue doing a demo rescue scenario with Cora as their subject at Solea Palms Resort January 8, 2021. Source: GNDR
'This kind of training must be attended by local government units, the volunteers, the rescuers,' Agbay says. Deaf people like herself need to be the ones conducting the workshops, she explains, in order to expose the hearing community to their community.
The training team travel around the province conducting roadshows and training to raise awareness of disability inclusion in DRR - and to reduce stigma. They also conduct accessibility audits in buildings to ensure disabled access and exit.
'We've come to the realisation that we're part of society,' Clarin says. 'We are not a burden to society, but a contributor to development.'