event
UNDRR ROAMC: Presentation of the Regional Risk Assessment Report (RAR) for the Americas & the Caribbean 2021
Online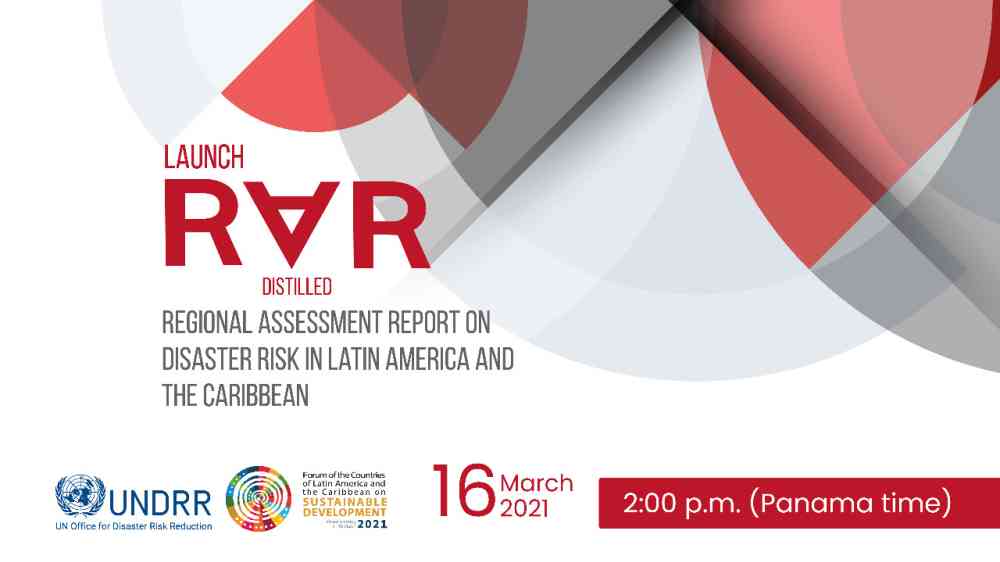 Organizer(s)
United Nations Office for Disaster Risk Reduction – Regional Office for the Americas and the Caribbean
With the adoption of the Sendai Framework for Disaster Risk Reduction 2015-2030, the Agenda 2030 for Sustainable Development, the New Urban Agenda and the Paris Agreement on Climate Change, member States identified a clear path for the prevention of new risks, the reduction of existing risk and the strengthening of resilience as prerequisites for sustainable development.
Through the Global Risk Assessment (GAR) reports, risk reduction efforts across the world are periodically identified and disseminated. These reports are the result of the inputs of UNDRR partners, including regional, national and local governmental authorities, private sector, the scientific and academic community, as well as particular collaborators.
The region of the Americas & the Caribbean is very exposed to different kinds of hazards. Added to the existing structural vulnerabilities, this combination results in losses of lives and livelihoods. The economic losses resulting form disasters jeopardize the sustainable development of the region. In addition, climate change increases the frequency, intensity and unpredictability of impacts. The global disaster of COVID-19 has had a very deep impact in the Latin America & Caribbean region.
These trends reinforce the importance of counting with capacities to reduce existing and emerging risk, as well as avoid the creation of new risk across all sectors. Having the above in mind, and in coordination with sub-regional intergovernmental and other partners, the Regional Office of  UNDRR for the Americas & the Caribbean has facilitated the production of a Regional Risk Assessment Report (RAR 2021) which will be presented in the framework of the Fourth Forum of the Countries of Latin America and the Caribbean on Sustainable Development 2021, on Tuesday 16th, from 14:00 to 15:00 hrs (Panama time).
The balance of 30 years of efforts to reduce disaster risk is presented in this first edition of the report, as well as the lessons learnt from the pandemic. The challenging socio-economic context foreseen for the coming years in the region is an opportunity to reflect upon and boost disaster risk reduction through concrete measures and actions. The pandemic recovery, in particular, can be an opportunity to strengthen risk governance and resilience. The findings of the RAR-LAC 2021 report evidence the need to undertake profound changes in the way we understand risk and its causality and, on that basis, enhance the mechanisms and measures required to reduce it. 
Please note: Content is displayed as last posted by a PreventionWeb community member or editor. The views expressed therein are not necessarily those of UNDRR, PreventionWeb, or its sponsors. See our terms of use