Your experience on PreventionWeb
Please help us improve PreventionWeb by taking this brief survey. Your input will allow us to better serve the needs of the DRR community.
Online
Disaster risk reduction and the private sector: Trends and concepts for Africa virtual training and webinar
Organizer(s)
United Nations Office for Disaster Risk Reduction - Regional Office for Africa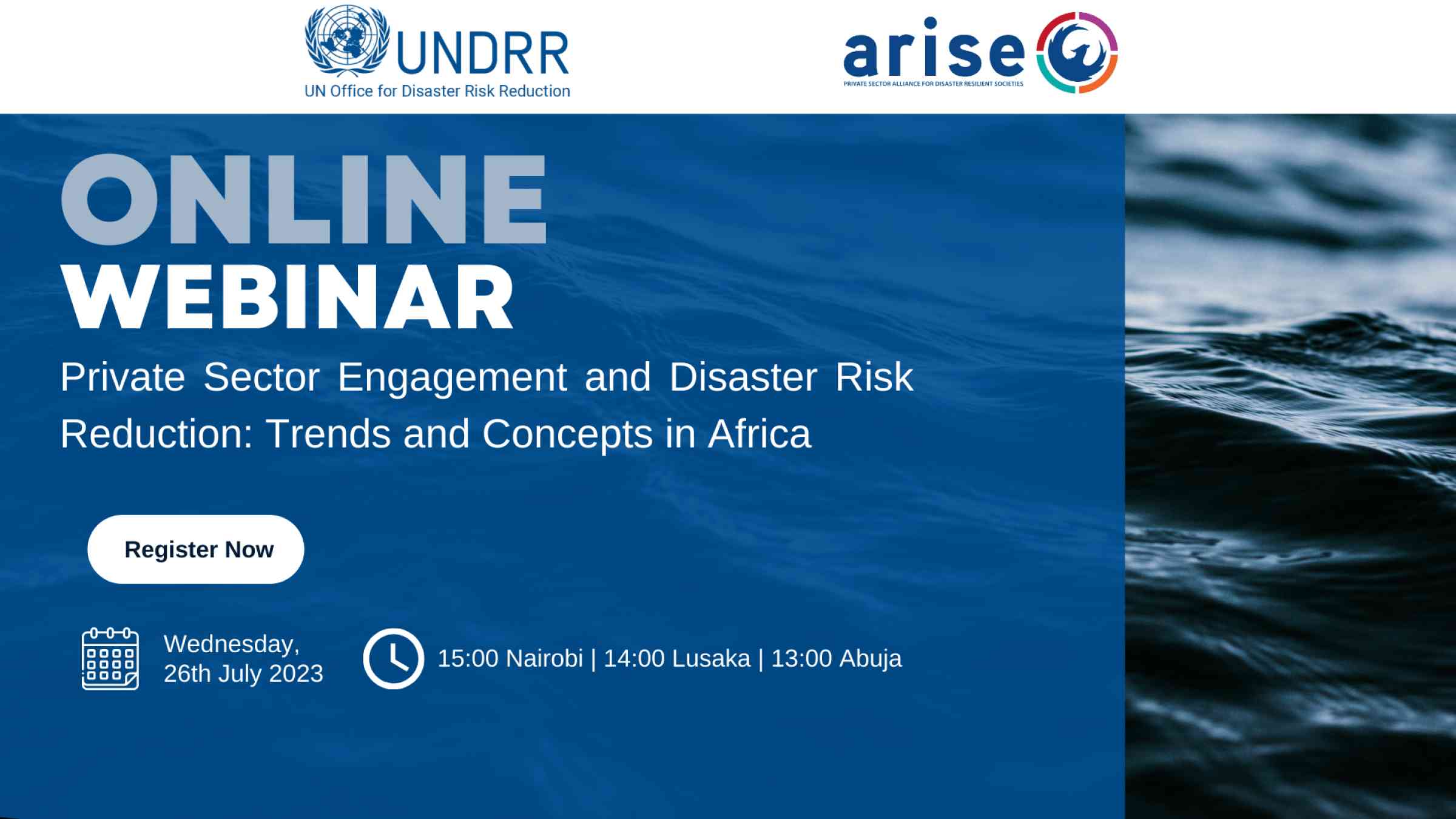 Event language(s)
Date and time
Date: 26 July 2023
15:00 – 16:00 EAT
Background:
In recent years, there has been a growing recognition of the importance of engaging the private sector in DRR. This is reflected in the Sendai Framework for Disaster Risk Reduction 2015-2030, which calls for "enhanced cooperation and partnerships between the public sector, the private sector, and civil society." The Sendai Framework for disaster risk reduction 2015-2030 recognizes the private sector as a major stakeholder group and states that "There is a need for the public and private sectors and civil society organizations, as well as academia and scientific and research institutions, to work more closely together and to create opportunities for collaboration, and for businesses to integrate disaster risk into their management practices". It is therefore key to engage the private sector in Africa to improve their understanding of risk, awareness on areas for collaboration with other stakeholders, and to invest in disaster risk reduction measures for resilience. 
The complexity and urgency of climate challenges require coordinated efforts and an agile approach, which businesses – large and small, from many sectors – can have an important role in. The rationale for strong engagement with the private sector is clear, and so private-public engagement will continue to be prioritized through Early Warning for All and other UNDRR programming and initiatives in Africa.
Objectives of the training:
The webinar organized by UNDRR, and the Africa ARISE Network aims to help the private sector across Africa gain a deeper understanding of the Sendai Framework for Disaster Risk Reduction's goals, establish a common understanding of DRR concepts, and showcase the value of DRR programs and initiatives in reducing business operational costs. In addition, it will showcase areas for collaboration with external stakeholders and discuss ongoing trends and initiatives in DRR, such as Early Warning for All (EW4ALL). EW4ALL is a global challenge to ensure that every person on Earth is protected by early warnings within five years and it requires the combined efforts of the public and private sectors. It will not be possible without the vast and varied capabilities of businesses.
The session shall be facilitated by the UNDRR Regional Office for Africa with guests from the private sector who will share experiences mainstreaming DRR into business models and practices. Participants in the meeting will be invited to join the Africa ARISE Network and participate in a larger network aimed at mobilizing and facilitating the private sector to carry out risk-informed investments and to apply business practices that reduce and prevent the creation of risk, build resilience, and enhance recovery from disasters, in line with the Sendai Framework.
Expected Outcomes:
Private Sector stakeholders comprehend Disaster Risk Reduction and Disaster Resilience principles and practices
Promotion of private sector involvement in Early Warning for All and other ongoing DRR initiatives in Sub-Saharan Africa
Participants are introduced to opportunities for private sector engagement in disaster risk reduction through the Africa ARISE Network.
Target Audience:
Private Sector Stakeholders 
Universities and research centers who are fostering the next generation of entrepreneurs. 
Workshop registration and logistics can be found here
Interested in becoming a member of the ARISE Network, apply here! 
For inquiries and consultation regarding this meeting, please contact: Julius Njoroge Kabubi, Programme Analyst, UNDRR, Regional Office for Africa - Nairobi, julius.kabubi@un.org  and Mekailah Stephens, Associate Expert, DRR, UNDRR, Regional Office for Africa - Nairobi, Mekailah.stephens@un.org. 
Please note: Content is displayed as last posted by a PreventionWeb community member or editor. The views expressed therein are not necessarily those of UNDRR, PreventionWeb, or its sponsors. See our terms of use