-
Online
Geneva
Switzerland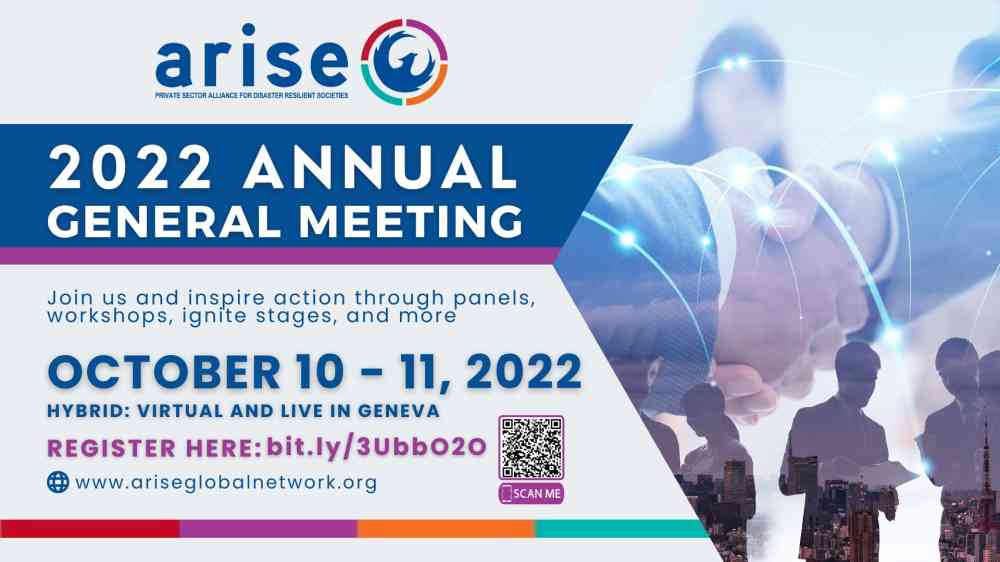 Organizer(s)
UNDRR Private Sector Alliance for Disaster Resilient Societies (ARISE)
United Nations Office for Disaster Risk Reduction
Venue
UNDRR, Geneva - Headquarters, 7bis Avenue de la Paix
Time
09:00 Geneva | 14:00 Bangkok | 16:00 Tokyo
Participants: Open only to ARISE members

Interpretation: English - Spanish (afternoon sessions only)
Description
As the 2022 Global Assessment Report stated, to attain a meaningful reduction in disaster risks and losses, governments, corporations and individuals would need to change how they think about and act on risk. We must move away from ignoring risk to proactively managing it and preventing its emergence. The private sector can wait for the laws and regulatory frameworks to mandate these changes, or they can act now in their own self-interest, and that of their communities, to stop the spiral of disasters and achieve a zero-disaster world.
ARISE networks and members are pioneers in this regard. By embarking on these changes within their own organizations, they are charting new paths that can inspire change within the larger business community. With more than 400 members across 29 networks around the world, all are welcomed in this annual event. The 2022 ARISE AGM aims at showcasing the achievements of members, monitoring progress on actions, and setting priorities aligned with the alliance's key performance indicators (KPIs). The KPIs follow ARISE's four Focus Areas with regards to its engagement with the private sector: (1) Enhancing the resilience of Small and Medium Enterprises (SMEs); (2) Integrating disaster and climate risk into investment decisions by the financial sector; (3) Incentivizing disaster risk reduction and enhanced data for risk-informed decision-making through engagement with the insurance industry as global risk manager; and (4) Supporting resilient infrastructure development.
Download the agenda from this page for further details.
Intended outcomes:
Achievements of ARISE members are showcased:

Networks and selected members share good practices
Members of the board with completed tasks showcase outcomes

Progress monitoring of actions by ARISE networks is discussed and defined:

An overview/reminder of progress by network against the KPIs
Agreement on next round of reporting

ARISE members showcase alignment and contribution to the overall DRR agenda
Exchange of ideas on setting priorities for 2023
Speakers
Mami Mizutori, ARISE Co-Chair, Special Representative of the SecretaryGeneral for Disaster Risk Reduction
Hans-Peter Teufers, ARISE Co-Chair, Director, International Programs at the UPS Foundation
Sarah Wade-Apicella, Head of the Partnerships and Stakeholder Engagement Unit, UNDRR
Ambassador, The German Permanent Missions in Geneva (TBC)
Special guests:
Hans Sy, Chairman of the Executive Committee of SM Prime Holdings, Inc. (SMPHI), ARISE Philippines Board
Youth representatives
---
ARISE, the Private Sector Alliance for Disaster Resilient Societies is a network of private sector entities committed to helping to implement the Sendai Framework, and led by UNDRR. ARISE mobilizes and facilitates the private sector to carry out risk-informed investments and to apply business practices that reduce and prevent the creation of risk, build resilience and enhance recovery from disasters, in line with the Sendai Framework. Organized into national networks, of which there are currently 28 worldwide, ARISE focuses on four priorities: SMEs; integrating DRR into investment decisions; incentivizing DRR within the insurance industry, and resilient infrastructure.
For more information: www.ariseglobalnetwork.org 
UNDRR (formerly UNISDR) is the United Nations' focal point for disaster risk reduction. UNDRR oversees the implementation of the Sendai Framework for Disaster Risk Reduction 2015-2030, supporting countries in its implementation, monitoring and sharing what works in reducing existing risk and preventing the creation of new risk.
For more information: https://www.undrr.org/
For more information
Sarah Wade-Apicella (wade-apicella@un.org) or Erick Gonzales Rocha (erick.gonzalesrocha@un.org).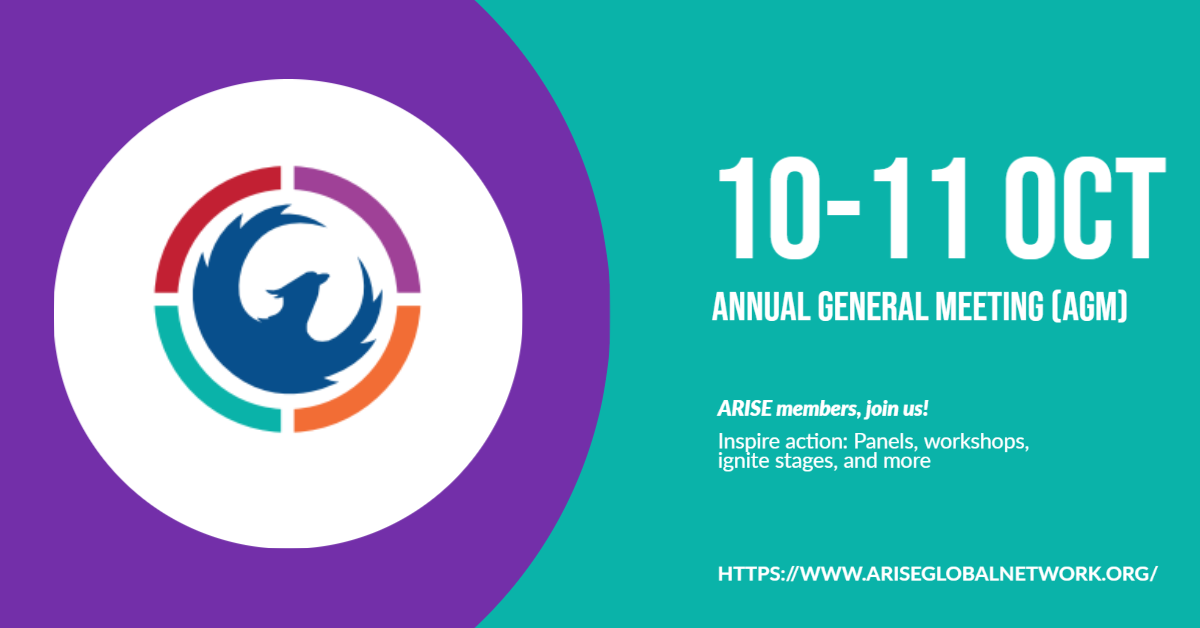 Please note: Content is displayed as last posted by a PreventionWeb community member or editor. The views expressed therein are not necessarily those of UNDRR, PreventionWeb, or its sponsors. See our terms of use