National disaster risk assesment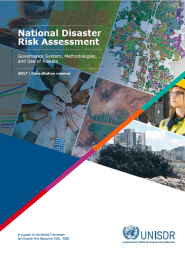 These guidelines are the result of the collaboration between over 100 leading experts from national authorities, international organizations, non-governmental organizations, academia, think tanks and private-sector entities. They focus on Sendai Framework's first Priority for Action: Understanding Disaster Risk, which is the basis for all measures on disaster risk reduction and is closely linked to the other three Priorities for Action.
The Guidelines are intended to:
(a) Motivate and guide countries in establishing a national system for understanding disaster risk that would act as the central repository of all publicly available risk information. This national system would lead the implementation and updates of national disaster risk assessment for use in disaster risk management, including for risk-informed disaster risk reduction strategies and development plans;
(b) Encourage NDRA leaders and implementing entities to aim for holistic assessments that would provide an understanding of the many different dimensions of disaster risk (hazards, exposures, vulnerabilities, capacities). The assessments would include diverse types of direct and indirect impacts of disaster – such as physical, social, economic, environmental and institutional. They would also provide information on the underlying drivers of risk – such as climate change, poverty, inequality, weak governance and unchecked urban expansion.
The Guidelines are designed to allow freedom in reading various sections according to the interests and needs of the users.