Your experience on PreventionWeb
Please help us improve PreventionWeb by taking this brief survey. Your input will allow us to better serve the needs of the DRR community.
21 June 2022
Building community resilience through prevention and awareness in Amadora
Wikimedia commons (CC BY-SA 4.0)
Since the beginning of the 21st century, Amadora – Portugal's most densely populated municipality – has suffered significant damages and human losses due to disasters. 
Vulnerable to disaster risks 
Due to its location, and its particular demographic and social context, Amadora is especially susceptible to a range of disaster risks such as heat waves, floods, rural fires, landslides and earthquakes.  
This has exacerbated the risk of technological hazards such as urban fires and traffic accidents – which also affects socio-economic conditions, leading to the rise of criminality, unemployment and poverty. Amadora also faces a series of disaster risk reduction (DRR) challenges, particularly a lack of stakeholder participation in urban planning and insufficient capacity to undertake risk analysis. 
Placing resilience at the forefront of the agenda 
In 2010 Amadora joined the United Nations' Making Cities Resilient (MCR) Campaign to foreground the issues of risk, disaster and resilience on the municipality agenda and build institutional capacity to reduce disaster impacts. The focus has been on strong coordination and leadership, vital for empowering communities so they can participate in DRR. 
After a series of community meetings with its stakeholder network – including partners from private and public sectors as well as local administration – Amadora launched its 'Amadora Connect to Resilience' strategy in December 2010.  
Participating in MCR's campaign allowed Amadora to promote DRR through partnerships, awareness and public information sessions and investment in emergency planning. Amadora has shown great progress in strengthening community resilience. 
After working with stakeholders, creating a local campaign team and introducing several DRR good practices, Amadora joined the EU-funded Uscore2project in 2015, which piloted the Disaster Resilience Scorecard for Cities tool in Europe using a peer-review methodology. This provided valuable feedback to improve the tool and indicators based on the Ten Essentials for Making Cities Resilient, a cornerstone checklist helping accelerate the implementation of the Sendai Framework for Disaster Risk Reduction.  
In 2016, Amadora was recognised by the UNDRR as a Model City for its ability to engage local stakeholders in the MCR Campaign and for its exemplary approach to citizen engagement in urban and community resilience. More than forty stakeholders – community groups, private sector, national/local authorities, schools and non-governmental organizations – play an active role alongside the campaign team and local government.  
Raising DRR awareness across all age groups 
Amadora concentrates on community resilience through prevention and awareness for all age groups. Two stepping-stones on our resilience path are worth highlighting:  
Awareness program for risk reduction: since 2010, Amadora has run an annual awareness session program, presented to schools and other local institutions.  
Senior Academy - Civil Protection Amadora: the Academy is an award-winning project that was established in 2014, with a focus on increasing elderly people's awareness of actions to reduce disaster risks. The project integrates DRR into civil protection mechanisms and raised awareness of its role in institutions and wider society. The Academy – made up of volunteers from civil protection institutions working alongside elderly leaders – collaborates with Amadora's local campaign team in DRR and awareness sessions.  
Continuing to build resilience to 2030 – and beyond 
In 2021 Amadora joined the MCR2030 initiative, building on the success of the 2010–2020 MCR Campaign. In doing so, the city committed to improving its resilience strategy and striving to become a better-prepared city, more responsive and quicker to respond in the face of disaster.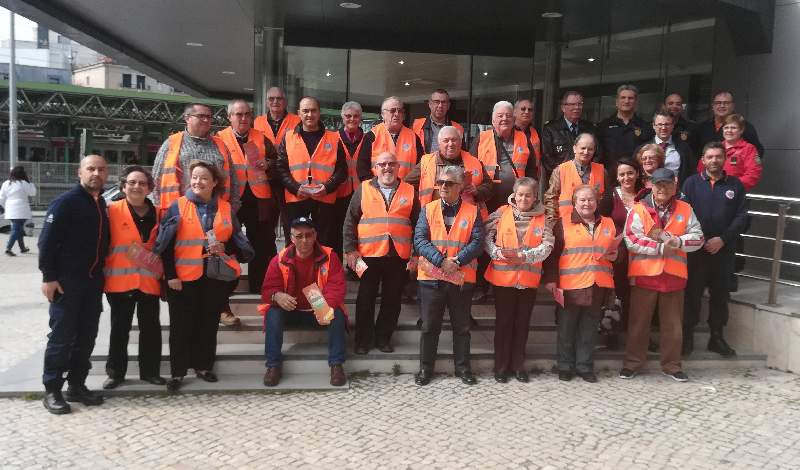 To reduce the frequency and severity of risks – and tackle the region's climate challenges – Amadora will continue raising DRR awareness by organizing more awareness sessions for schools and institutions, events for the general public, and investing in social media and digital channels to increase public participation in DRR. 
Other priorities include monitoring Amadora's rural areas during critical months for fires and strengthening relations with other resilient cities in Portugal and internationally, to exchange knowledge and good practices.  
Amadora is active in several inter-city collaborations and cooperative projects, but these had to be put on hold because of the COVID-19 pandemic. One such project is working alongside the cities of Viggiano and Greater Manchester on Uscore2 – to design a new city-to-city peer-review tool to help urban areas around the world to strengthen their DRR.  
Amadora received the UN Sasakawa Award in 2017, recognising its substantial contribution towards saving lives and reducing global disaster mortality. Since then, the city has continued to strive for greater resilience, understanding that DRR is a constant work in progress and there are always improvements to be made.  
Resilience is a space to plant, grow and harvest a city's strategy, adjusting to the city's needs and vulnerabilities, taking advantage of its unique features, and realising its power to unite and strengthen a city's entire community. 
---
Mayor of Amadora City Council since October 2013, Carla Tavares was the Councilor and Vice-President of the Municipality of Amadora from 2002 to 2013, with portfolios in the areas of education, sport, youth, development social, human resources and finance and also a congresswoman member of the youth and sport, gender parity and family opportunities commissions. She holds a degree in management from the University of Lisbon.
Please note: Content is displayed as last posted by a PreventionWeb community member or editor. The views expressed therein are not necessarily those of UNDRR, PreventionWeb, or its sponsors. See our terms of use