Mission
In July 2010, the United Nations General Assembly created UN Women, the United Nations Entity for Gender Equality and the Empowerment of Women. UN Women, grounded in the vision of equality enshrined in the Charter of the United Nations, works for the elimination of discrimination against women and girls; the empowerment of women; and the achievement of equality between women and men as partners and beneficiaries of development, human rights, humanitarian action and peace and security.
Placing women's rights at the centre of all its efforts, UN Women leads and coordinates the efforts of the United Nations system to ensure that commitments on gender equality and gender mainstreaming translate into action throughout the world. It provides strong and coherent leadership in support of Member States' priorities and efforts, building effective partnerships with civil society and other relevant actors.
The main roles of UN Women are:
To support inter-governmental bodies, such as the Commission on the Status of Women, in their formulation of policies, global standards and norms;
To help Member States to implement these standards, standing ready to provide suitable technical and financial support to those countries that request it, and to forge effective partnerships with civil society;
To hold the UN system accountable for its own commitments on gender equality, including regular monitoring of system-wide progress.
Disaster Reduction Goal
UN Women seeks to support inter-governmental bodies and forums, Member States and other UN Agencies and Entities in serving their respective commitments to integrate gender equality and women's empowerment in the formulation of policies, standards and norms related to disaster risk reduction.
It supports implement of these in a gender-responsive way that ensures accountability to, active participation of and sustained results for women, girls, boys and men of all ages that are in risk of and/or are affected by disaster.
Policies and Programmes in DRR
Highlights of impact since 2011

Disaster Risk Reduction is an emerging issue for UN Women and is situated within the context of its mandate for humanitarian action, which includes disaster risk reduction, disaster preparedness, disaster response and early recovery. UN Women has recently established the UN Women on Gender and Humanitarian Unit, which, amongst other things, will consolidate and build on the work on gender and DRR already being undertaken by UN Women's field and regional level offices. The main focus of the Unit is to support DRR actors to implement commitments to gender equality in DRR, preparedness, response and early recovery already committed to by Member States under the Beijing Platform for Action, and the follow-up reviews and appraisals of its implementation, the Hyogo Framework Agreement and its "Words into Action" (2007) guidelines, as well as the recently agreed Resolution 56/2 'Gender equality and the empowerment of women in natural disasters' (2012). Furthermore, UN Women is focusing on ensuring the integration of gender equality and women's empowerment in the implementation of the new United Nations Plan of Action on Disaster Risk Reduction (DRR) for Resilience, and the development of a post-2015 Framework for Disaster Risk Reduction.

Since 2011, UN Women has focused on raising awareness of the gender dimensions in dealing with disasters, as well as exploring the relationship between such disasters and sustainable development from a gender perspective.

At the regional and country levels, work has already been carried out in Pakistan, Mozambique, Vietnam and the Pacific.

In the Pacific, UN Women, in collaboration with OCHA and with the support of GenCap Advisers, organized a training to address the challenges of DRR. The 53 actions and entry points identified during the training are now informing UN Women's planning processes.
Membership in Key Networks
• Co-chair of IASC Sub-Working Group on Gender and Humanitarian Action
• Gender Based Violence Area of Responsibility
• IASC-Cluster Working Group on Early Recovery (CWGER)
Disaster Risk Reduction Focal Point(s)
• Siobhán Foran, Gender and Humanitarian Unit, UN Women Programme Directorate, siobhan.foran@unwomen.org, Tel: +1 646 781-4400, Fax: +1 646 781-444
• IASC Working-group on Gender and Humanitarian Action
house- 11A, road- 113, Gulshan 2 1212 Dhaka Bangladesh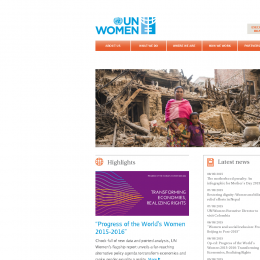 Badges
Conferences:

- UNISDR Science and Technology Conference
- 2017 Global Platform
- AMCDRR 2016