Mission
UNDP partners with people at all levels of society to help build nations that can withstand crisis, and drive and sustain the kind of growth that improves the quality of life for everyone. On the ground in 177 countries and territories, UNDP offers global perspective and local insight to help empower lives and build resilient nations. In 1998 the UN General Assembly mandated UNDP to assume operational responsibility for natural disaster mitigation, prevention and preparedness. UNDP employs more than 200 full time DRR practitioners, covering all regions, with special attention to the 60 highest risk countries. UNDP programme expenditures on DRR average US$ 150 million annually. In all its activities, UNDP encourages the protection of human rights, capacity development and the empowerment of women.
Disaster Reduction Goal
UNDP's 2008-2013 Strategic Plan includes key results specifically related to disaster reduction and recovery. These include: 1. Enhancing conflict prevention and disaster risk management capabilities • Strengthened national capacities, including the participation of women, to prevent, reduce, mitigate and cope with the impact of systemic shocks from natural hazards 2. Ensuring improved governance functions post crisis • Post-disaster governance capacity strengthened, including measures to ensure the reduction of future vulnerabilities 3. Restoring the foundations for local development • Gender equality and women's empowerment enhanced in post-disaster and post-conflict situations • Post-crisis socio-economic infrastructure restored, employment generated, economy revived; affected groups returned/reintegrated.
Policies and Programmes in DRR
In Armenia, 15 years of UNDP support to the government has reduced disaster risk and allowed villages to benefit from practical assistance, such as drainage systems that reduce the risk of flooding. In 2011, UNDP helped the Ministry of Emergency Situations to create a public disaster risk E-Library that will help planners understand the risk present in different geographic locations. With UNDP's assistance, the Ministry also established a National Disaster Observatory, which collects and analyses disaster data to inform policy and decision making. In Manizales, Colombia, seismic activity, high rainfall and rapid urban development on steep unstable land combine to make landslides a chronic hazard. UNDP support to a local government initiative has empowered 200 women by training and employing them as risk managers in their own communities. The women raise community awareness about the risk of landslides, identify areas at risk of collapse and maintain drainage ditches and retaining walls to prevent subsidence, making the city a safer place to live. In Indonesia, since 2007, UNDP has been working with the government to reduce the human, economic, and social impact of disasters by establishing disaster risk management agencies across the country; integrating disaster risk reduction into the national five-year development plan; and developing comprehensive guidelines and tools for assessing damage, loss and needs for post-disaster recovery. In part, as a result of these activities, in January 2012 no lives were lost in Aceh when a 7.6 magnitude earthquake struck. Early warning systems worked and evacuations were made on time. The 2010 floods in Pakistan, which affected over 20 million people, and the 2011 flooding, which affected over 5.5 million, left homes, bridges, roads, electricity infrastructure, agricultural land and crops destroyed. UNDP's recovery programme has focused on re-establishing the capacity of the government to respond to these and future floods; restore the livelihoods of vulnerable people; and rebuild basic community infrastructure. Over 170,000 people have been given emergency employment to remove debris and rebuild infrastructure. The energy needs of 150,000 people are now being met thanks to UNDP supported solar panels that didn't exist before, an example of building back better. View 2011 UNDP DRR profile
Membership in Key Networks
• International Recovery Platform (IRP) • Capacity for Disaster Reduction Initiative (CADRI) • Global Risk Identification Programme (GRIP) • Platform for Environment and DRR (PEDRR)
National Counterpart
National Governments and local governments (Disaster Management/Preparedness, Planning, Construction)
Disaster Risk Reduction Focal Point(s)
Mr. Jo Scheuer, Coordinator, Disaster Risk Reduction & Recovery Team, UNDP Bureau for Crisis Prevention and Recovery (jo.scheuer@undp.org)
Websites
• http://www.undp.org/cpr • http://www.cadri.net • http://www.gripweb.org
One United Nations Plaza 10017 New York, NY United States of America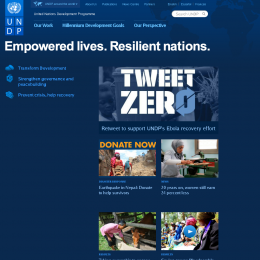 Badges