Mission
Plan Germany is part of Plan International, and supports development programmes in 50 countries. It finances sustainable and child-focused self-help projects mainly by means of sponsorship, but also through grants and public funds.
Disaster Reduction Goal
Disaster risk reduction is an increasingly important aspect of Plan's work in order to prevent disasters from endangering the progress achieved in the many years of Plan's work. All disaster preparedness and disaster risk reduction activities promoted by Plan are aimed at allowing children to grow up safely in resilient communities.
Bramfelder Str. 70 22305 Hamburg Germany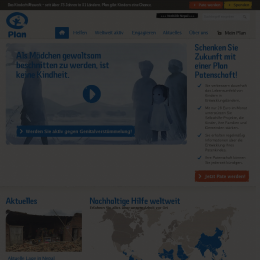 Badges