Mission
UN-OHRLLS, established by the United Nations General Assembly in 2001, advocates for the least developed countries (LDCs), landlocked developing countries (LLDCs) and small island developing States (SIDS). UN-OHRLLS coordinates and mobilizes international support and resources for the implementation of: 1) the Istanbul Programme of Action (IPoA) for the Least Developed Countries 2011 - 2020, adopted by the Fourth United Nations Conference on the Least Developed Countries in Istanbul 2011; 2) the Almaty Declaration and Programme of Action for Transit Transport Cooperation between Landlocked and Transit Developing Countries (APoA); and 3) the Mauritius Strategy for the further implementation of the Barbados Programme of Action for the Sustainable Development of Small Island Developing States (MSI), adopted in Mauritius in 2005.
Disaster Reduction Goal
Ensure that in the post-2015 development agenda and second phase of the Hyogo Framework for Action, the resilience of LDCs, LLDCs and SIDS – the most vulnerable countries, most prone to natural disasters, with the least capacity to respond – is strengthened and their disaster risk is reduced. UN-OHRLLS is also guided by key elements in the IPoA, MSI and Rio+20 outcomes, as pertaining to disaster risk reduction.
Policies and Programmes in DRR
The international community acknowledges that disaster risk reduction is a priority area for action, as reflected in the LDCs IPoA and the SIDS MSI. The most vulnerable countries, LDCs, LLDCs and SIDS are highly susceptible to disasters, given their geographic locations and the structural constraints, handicaps and daunting reconstruction challenges they face in a post disaster and recovery phase. Hence UN-OHRLLS continues to place high priority and great emphasis on this issue when advocating on behalf of these three groups of countries at national, regional and international levels.
Highlights of impact since 2011
View 2011 UN-OHRLLS DRR profile
In May 2013, UN-OHRLLS will partner with UNISDR to convene a Featured Event on SIDS and disaster risk reduction at the Fourth Session of the Global Platform for Disaster Risk Reduction. OHRLLS is currently preparing a report on the "Impact of climate change, desertification and land degradation on the development prospects of LLDCs", due out in June 2013, and will also organise a pre-conference (Ten Year Comprehensive Review Conference on the Almaty Programme of Action, 2014) event on the same issue to discuss the best strategies to strengthen the resilience of LLDCs.
National Counterpart
Collaborates with national focal points in the LDCs towards implementation of the Istanbul Programme of Action.
Disaster Risk Reduction Focal Point(s)
Mr. Damien Sass, Associate Programme Officer, OHRLLS SIDS-Unit (sass@un.org)
405 East 42nd Street 10017 New York City United States of America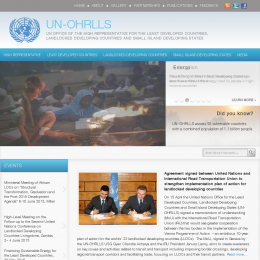 Badges
Conferences:

- 2017 Global Platform