Mission
UNFPA is an international development agency that promotes the right of every woman, man and child to enjoy a life of health and equal opportunity. UNFPA supports countries use of population data in policies and programmes to reduce poverty and to ensure that every pregnancy is wanted, every birth is safe, every young person is free of HIV/AIDS, and every girl and woman is treated with dignity and respect.
UNFPA's goal is to achieve universal access to sexual and reproductive health (SRH), including family planning, to promote reproductive rights, reduce maternal mortality, and to accelerate progress on the International Conference on Population and Development (ICPD) agenda and MDG 5 (A and B). UNFPA, driven by country needs and tailored to country contexts, works to empower and improve the lives of under-served populations, especially women and young people (including adolescents), enabling them to better understand population dynamics, human rights and gender equality.
Disaster Reduction Goal
The 2nd Generation UNFPA Humanitarian Strategy is focused on strengthening disaster preparedness within development programming at the country level. Country Programmes and Country Programme Annual Work plans for countries at high risk of humanitarian crises include contingency planning and preparedness components in order to better assist the country to respond in the event of an emergency. Wherever possible, emergency commodities are repositioned, staff and partners trained on essentials of humanitarian response, disaster risk reduction, resilience building within host populations, advocacy while partnership and long term agreements are signed and staffing and business continuity arrangements made ahead of the crisis.
Policies and Programmes in DRR
Following-up on the 2010 evaluation of the First Humanitarian Generation Strategy's implementation, UNFPA took on board the recommendation to develop in 2011 the UNFPA Humanitarian Response Strategy: "Second Generation", to mainstream between 2012 and 2013 humanitarian assistance within UNFPA programmes and organisational units. The strategy explicitly recognizes preparedness as essential, not only to effective response, but for prevention of some forms of crises and disasters, and for risk reduction and resilience building.

The UNFPA Humanitarian Standard Operating Procedures have devoted a section to UNFPA procedures to be adopted during the preparedness, post-crisis or transition phases of crises that have direct relevance to DRR and resilience building among exposed or affected populations and communities.

The UNFPA Guidelines on Data Issues in Humanitarian Crisis Situations equally devote a chapter to preparedness. This focuses on sources of data, their strengths, shortfalls and uses, and provides a list of vital indicators that could be used to better appraise risks and vulnerabilities, and identify target populations and institutions for more effective DRR strategies.

Spatial analysis of population data is at the core of understanding and acting on climate vulnerability, particularly in high concentration, high exposure urban areas where vulnerability is dynamic and climate impacts threaten the lives and livelihoods of many. In 2012, UNFPA developed the "POPClimate Web Platform" around UNFPA's manual on the analysis of census data for climate adaptation planning, which was developed in concert with the City University of New York. The platform delivers the manual content, and is also designed to bring together a community of data users, climate practitioners and adaptation planners who can develop, share and comment on new approaches for data-driven DRR and climate change adaptation planning.
Highlights of impact since 2011
UNFPA's Second Humanitarian Response Strategy 2012-2013
UNFPA's primary role in humanitarian preparedness and DRR is to save lives by providing SRH services, delivering services and strengthening capacity to address gender-based violence (GBV), and contributing to effective response of the whole UN System through the use of population data. The launch and implementation of the Second Generation Humanitarian Response Strategy prioritizes disaster preparedness and resilience building, strengthening the continuum between humanitarian, peace-building and development efforts and as a result, significantly reducing the risks of emergency situations and the immense costs of relief operations.

UNFPA consolidated response to disasters is therefore focused within its mandate to ensure predictability and quality of support. The humanitarian response strategy will be supported by key guidance documents (Fast Tracking Policies and Procedures, and the Standard Operating Procedures in humanitarian settings) outlining how the Fund can better prepare and respond to disasters.
Disaster Risk Reduction, Fragile Contexts and Climate Change Adaptation
Starting in 2011, UNFPA invested substantial attention to aligning its development programming with its strategic engagement in fragile contexts. Increasingly confronted with the challenges of development work in fragile contexts, UNFPA launched in 2011 an analytical assessment to identify the potential need to adapt and align programming, human resources and operations of UNFPA's engagement in fragile contexts. Particular emphasis was dedicated to mitigating the negative impacts of vulnerability and exposure to natural disasters, among which were the steep increase of earthquakes, floods, landslides and droughts. Of importance in engaging in fragile contexts is the recognition that fragility can be exacerbated not only by emergency situations but also by internal displacement of people for various reasons, caused by natural disasters (including climate change), armed conflict, high unemployment, financial crisis, large flows of uncontrolled migration, and high population growth.
In the midst of a rapidly expanding global DRR agenda and a post-2015 HFA regime, it is of primary importance for UNFPA's disaster preparedness approach to establish programmatic linkages between disaster resilience-building and Climate Change Adaptation, in order to generate the most appropriate and effective interventions. As reacting to events after they occur is no longer sufficient, UNFPA is committed to adequately respond to the increasing need to anticipate and reduce the suffering and the damaging impacts on local economies and livelihoods that coming natural disasters will have. By developing national capacities in understanding population dynamics and extensive use of demographic data, UNFPA provides enabling environments for governments to develop pre-emptive and effective disaster resilience policies and practices. Linking demography, climate change adaptation, data foundations and techniques for analysing climate vulnerability helps to illuminate who is vulnerable and how to help build the resilience of vulnerable populations.
Enhancing communications with and amongst populations affected by disasters
Recognizing the importance of strengthening the disaster resilience-building capacities of communities through effective, concerted means of communication, UNFPA actively supported the Communicating with Disaster-Affected Communities (CDAC) Network's Media and Technology Fair held in March 2012. Bringing together decision makers and practitioners from many of the leading humanitarian, media development and technology agencies operating in the humanitarian space, the fair was organised in partnership with BBC Media Action, the United Nations Population Fund (UNFPA) and Google.org, and with sponsorship from the GSM Association Development Fund (GSMA).
Membership in Key Networks
• Communicating with Disaster-Affected Communities (CDAC) Network
• High-level Committee on Programmes (HLCP) Working Group on Climate Change
• United Nations System Chief Executive Board for Coordination (UNSCEB)
• Member of the Inter-Agency Standing Committee (IASC) and its subsidiary bodies
• Inter-Agency Working Group for Reproductive Health in Refugee Situations
• Inter-Agency Needs Assessment Task Force
• Inter-Agency Early Recovery Cluster
National Counterpart
• National Disaster Management Councils/Units of line ministries in framework of existing contingency plans in some countries.
• Global MOU with IFRC and MOUs at national level in some countries.
Disaster Risk Reduction Focal Point(s)
Humanitarian and Fragile Contexts Branch: hrb@unfpa.org
605 Third Avenue New York 10158 New York United States of America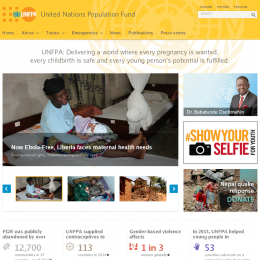 Badges
Conferences:

- 2017 Global Platform
- 6th AFRP and 5th High-Level Meeting on DRR