Mission
The history of the Colombo Plan for Cooperative Economic and Social Development in Asia and the Pacific, one of the oldest regional inter-governmental organizations dates far back as 1950, when the idea was first conceived to enhance economic and social development of the countries of the region. The Colombo Plan was established on 1 July 1951 by Australia, Canada, India, Pakistan, New Zealand, Sri Lanka and the United Kingdom and currently has expanded to include 26 member countries including non-Commonwealth countries and countries belonging to regional groupings such as ASEAN (Association of South-East Asian Nations) and SAARC (South Asian Association for Regional Cooperation). The Colombo Plan is a partnership concept of self-help and mutual-help in development aimed at socio-economic progress of its member countries.

The Colombo Plan has 4 permanent programmes:
Drug Advisory Programme (DAP)
Programme for Public Administration & Environment (PPA & ENV)
Programme for Private Sector Development (PPSD)
Long-Term Scholarships Programme (LTSP).
Wijerama Mawatha 00700 Colombo Sri Lanka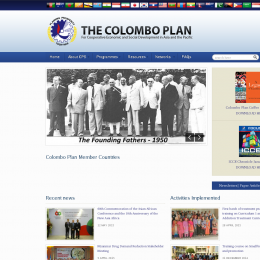 Badges