Mission
WFP is the specialized food assistance organization of the United Nations, and it is the largest humanitarian organization focusing on food security worldwide. WFP meets emergency needs, supports economic and social development, and promotes world food security. Every year, WFP provides food assistance to around 100 million people in nearly 80 countries, focusing in the most vulnerable and food insecure communities worldwide.
WFP pursues a vision of the world in which every man, woman and child has access at all times to the food needed for an active and healthy life. WFP works towards that vision with its sister UN agencies in Rome – the Food and Agriculture Organization (FAO) and the International Fund for Agricultural Development (IFAD) – as well as other government, UN and NGO partners.
WFP plays a major role in addressing emergency relief, transitional and development challenges and opportunities with a specific focus on protecting lives and livelihoods, and strengthening resilience at the local and national level. WFP gives priority to supporting disaster prevention, preparedness and mitigation and post-disaster rehabilitation activities as part of development programmes. Approximately half of all WFP programmes support activities that enhance disaster risk reduction, resilience building and climate risk management.
The WFP together with the Food and Agriculture Organization (FAO) head the Food Security Cluster (FSC) which has been established to coordinate the food security response during a humanitarian crisis, addressing issues of food availability, access and utilisation.The Global Support Team includes WFP, FAO, NGO and Red Cross and Red Crescent members.
Disaster Reduction Goal
WFP's 2008-2013 Strategic Plan reflects the changing nature of food assistance and hunger and marks a historical shift from WFP as a food aid agency to WFP as a food assistance agency, with a more nuanced and robust set of tools to respond to critical hunger needs. The overarching goal of this Strategic Plan is to reduce dependency and to support governmental and global efforts to ensure more resilient livelihoods and long-term solutions to the hunger challenge.
As part of the Strategic Objective 2, WFP aims to prevent acute hunger by investing in disaster preparedness and mitigation measures. WFP also contributes to strengthening the capacity of governments and local communities to prevent, prepare for, and respond to humanitarian crises.
WFP works with local, national and international partners to incorporate disaster prevention and mitigation activities in its Country Strategies, Country Programmes and Protracted Relief and Recovery Operations. While building community resilience for enhanced food and nutrition security has been a central objective of the works of WFP for decades, disaster risk reduction and management for enhanced resilience have recently been addressed by specific policy and programmatic efforts within the organization.
Policies and Programmes in DRR
WFP's current strategic framework, launched in 2008, includes a corporate Strategic Objective on disaster preparedness and mitigation, through implementation of disaster preparedness and mitigation measures in vulnerable settings, and by developing the capacities of governments and local communities to manage disaster and climate-related risks.
In addition to the strategic plan, the WFP Policy on Disaster Risk Reduction and Management: Building Food Security and Resilience defines the organization's comparative advantages and priorities in disaster risk reduction, in support of the Hyogo Framework for Action.
WFP has also contributed to the Rio+20 Process by ensuring that food and nutrition security is part of the resilience and sustainable development agendas in the post-Rio+20 period.
Membership in Key Networks
• Logistics cluster (WFP leading)
• Emergency telecommunications cluster (WFP leading)
• Food security cluster (WFP co-chairing with FAO)
• Early Warning and Contingency planning (WFP co-chairing with UNICEF)
• Humanitarian Early Warning System
• Food Security Outlook
• Climate Outlook Forum
• ISDR Global Drought Risk Reduction Platform (Co-lead)
• HLCP SMG (ISDR led, CEB mechanism)
National Counterpart
National governments and United Nations Country Teams
Making disaster risk reduction a policy priority, institutional strengthening (HFA 1)
WFP provides policy support to governments, in the areas of disaster risk reduction and management, early warning systems, contingency planning, and resilience building.
Risk assessment and early warning systems (HFA 2)
In more than 25 countries, WFP supports governments to implement advanced food security monitoring systems to track food security, nutrition, market indicators and natural hazards to provide effective analysis to support disaster preparedness, prevention and response, including through the activation of national social protection programmes and safety nets in support of the most vulnerable.
WFP works closely with government counterparts to develop innovative early warning systems. For example, in Ethiopia, WFP supports the implementation of LEAP. LEAP (Livelihoods, Early Assessment and Protection) is a food security early warning tool that integrates risk transfer mechanisms, such as weather index insurance, into traditional risk management and social protection schemes. The combination of these approaches improves the effectiveness of safety net programmes and reduces the negative impact of climate disasters on the most vulnerable people.
The capacity of governments to prepare for disasters is also strengthened through effective integration of contingency planning and early warning systems, with contingent finance to ensure resources are available when needed. These strategies represent a shift from traditional disaster response to more cost-effective disaster risk management approaches.
At the regional level, WFP also supports the development of early warning systems, collaborating with institutions such as the Permanent Interstate Committee for Drought Control in the Sahel (CILSS) and the Southern African Development Community (SADC).
WFP also participates in regional food security early warning systems such as the Greater Horn of Africa Food Security Outlook processes, which incorporate information about food security, nutrition, market situation, seasonal rainfall forecasts, and hazards to inform disaster preparedness interventions.
At the continental level, WFP is supporting the African Union to develop the African Risk Capacity (ARC). As an African-owned, continental index-based weather risk insurance pool and early response mechanism, ARC offers an African solution to one of the continent's most pressing challenges. By bringing together the concepts of insurance and contingency planning, ARC aims to create a new way of managing weather risk by transferring the burden away from African governments, and their vulnerable populations who depend on government assistance, to international financial markets.
Education, information and public awareness (HFA 3)
WFP works with the most vulnerable and food insecure communities to enhance their capacity to manage climate-related risks through food-for-training activities. Such activities include training in community-based disaster risk reduction techniques, and early warning systems.
Reducing underlying risk factors (HFA 4)
Asset creation is a key component of WFP's strategy to reduce disaster risk. Working with governments and partner agencies, WFP implements asset creation activities that support a range of food security-related disaster risk reduction activities, such as soil and water conservation, the development and rehabilitation of flood protection infrastructure, and rehabilitation of roads, among others. Globally, these WFP-supported activities in support of disaster risk reduction directly assist over 20 million people in the most vulnerable and marginalized communities.
WFP supports the development of social protection mechanisms aimed at reducing the impact of disasters on livelihoods and food security. For example, in Uganda, in partnership with the Government and the Food and Agriculture Organization of the United Nations (FAO), WFP established the Karamoja Productive Assets Programme (KPAP), which uses food assistance to meet seasonal food needs while building productive assets, such as new rainwater harvesting structures, which improve water availability for agricultural and livestock production and reduce the impact of drought on the most vulnerable lives and livelihoods.
WFP has significant capacity to respond to emergencies related to disasters. Its emergency operations reduce the impact of disasters on food and nutrition security and help people start to recover. Whenever possible, these activities contribute to reducing the risks of future disasters.
WFP, in collaboration with Oxfam America and Swiss Re, is also testing innovative methods to manage risks through the R4 Rural Resilience Initiative. R4 links an integrated risk management approach which brings safety nets together with community disaster risk reduction, micro-insurance, credit and savings. R4 is based around the idea of managing four types of risks: 1. Community risk reduction (protecting farmers against weather extremes); 2. Productive risk taking (credit for high yield seeds, fertilizer); 3. Risk transfer (insurance); 4. Risk reserves (savings).
Preparedness for effective response (HFA 5)
WFP's emergency preparedness and contingency planning are critical to ensuring readiness to respond to both man-made and natural disasters and to reducing their impact on vulnerable populations. This capacity has made WFP a front-line actor in disaster preparedness worldwide; WFP is transferring knowledge and capacities to partner governments, whenever conditions allow. For example, in Haiti, WFP provides assistance to the Government's preparation for disasters through stand-by agreements with partners and the pre-positioning of supplies and equipment.
In 2010, these efforts enabled the Government, WFP and its partners to respond quickly to Hurricane Tomas and Haiti's cholera epidemic.
WFP co-leads the Food security cluster (with FAO), and it leads the logistics and emergency telecommunications clusters – a key component of the strategy to better prepare for disasters.
WFP is strengthening its disaster preparedness capacity through the Preparedness and Response Enhancement Programme (PREP) – a three-year programme which aims to strengthen the WFP corporate response capacities to support emergency response for up to 6 million beneficiaries.
Disaster Risk Reduction Focal Point(s)
Resilience and Prevention Branch
wfp.resilienceandprevention@wfp.org
Websites
www.wfp.org
www.wfp.org/disaster-risk-reduction
www.wfp.org/climate-change
Via Cesare Giulio Viola 68/70 00148 Rome Italy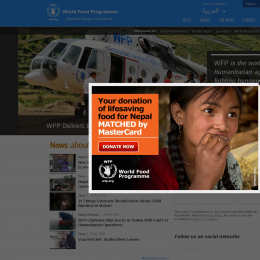 Badges
Conferences:

- 1st ACDRR
- UNISDR Science and Technology Conference
- 2017 Global Platform