Mission
UNEP is the voice for the environment within the United Nations system. UNEP acts as a catalyst, advocate, educator and facilitator to promote the sustainable development of the global environment. To accomplish this, UNEP works with a wide range of partners, including United Nations entities, international organizations, national governments, non-governmental organizations, the private sector and civil society.
Disaster Reduction Goal
Disaster Risk Reduction is a key pillar in the Disasters and Conflicts Sub-Programme, one of six priority areas in UNEP's Medium-term Strategy
(2010-2013).
UNEP aims to address the environmental causes and consequences of natural hazards and environmental emergencies and reduce their impacts on vulnerable communities and countries, through sound environmental management, improved preparedness, and environmentally-sustainable response and recovery. UNEP's work on prevention seeks to reduce ecosystem degradation that contributes to disaster risk, while maximizing the sustainable use of ecosystem services for risk and vulnerability reduction.
Policies and Programmes in DRR
Disaster risk reduction in UNEP has historical precedence, dating as far back as 1989, when the UNEP Governing Council endorsed UNEP's taking a pro-active role in preparing for, preventing and responding to environmental emergencies due to industrial and natural hazards.

Most recently, at the 26th session of the Governing Council (February 2011), Agenda Item No.9, the Governing Council (GC) recognized UNEP's role in DRR with special emphasis on addressing and managing environmental emergencies and promoting greater cooperation on the environmental dimensions of natural and man-made (i.e. industrial) disasters. The GC also requested UNEP to "strengthen integrated approaches to reducing the risk of natural and man-made disasters and adapting to the impacts of climate change."

Highlights of impact since 2011
UNEP works to accelerate implementation of the HFA by focusing on both climatic and non-climatic risks, encompassing both natural and technological hazards as well as environmental emergencies.
UNEP's work on DRR cuts across HFA Priorities 1-5, with a focus on early warning, risk and vulnerability assessments, disaster preparedness and contingency planning for environmental emergencies, disaster prevention, sustainable recovery and adaptation to climate change-related risks. UNEP's DRR activities are divided primarily into four main components: advocacy at global, regional and national levels; national capacity development/training (targeting governments); partnerships; and development of guidance materials and toolkits.
Starting in 2012, UNEP, with the European Commission, is implementing an Ecosystem-based Disaster Risk Reduction (Eco-DRR) project that will demonstrate good practices in maximizing ecosystems for disaster risk reduction, for instance through integrated coastal zone management in Haiti, sustainable water resource management in Sudan, and catchment-based land-use planning in the Democratic Republic of Congo and Afghanistan.
In 2011, UNEP, with the Partnership for Environment and Disaster Risk Reduction (PEDRR), developed and delivered National Trainings on Ecosystem-based Disaster Risk Reduction in Sri Lanka, India and Georgia, and a Training of Trainers for the Asia-Pacific Region. Together with the Centre for Natural Resources and Development Network (CNRD), UNEP developed a Masters of Science Module on Eco-DRR, which will be delivered by CNRD universities and other partnering universities.
Since 2007, UNEP has supported the ISDR system in undertaking global risk assessments for the Global Assessment Report on Disaster Risk Reduction (GAR). UNEP has developed and delivered a national training on integrated risk assessments that incorporate an ecosystems component, based on the RiVAMP methodology implemented in Jamaica; this training is now available online.
The UNEP/OCHA Joint Environmental Unit (JEU) works to enhance the preparedness of communities, disaster responders, governments, and industries against the potential risks and impacts of environmental emergencies. The JEU has developed the Environmental Emergencies Centre (EEC), an online platform designed to build the capacity of national responders to environmental emergencies. The EEC now offers a number of e-Learning training modules and workshops.
UNEP, with the Environment and Security Initiative (ENVSEC), works in four regions: Central Asia, Eastern Europe, Southern Caucasus, and South-Eastern Europe. It has undertaken assessment of climate change impacts and transboundary risks in mountain regions, as well as of other threats to human security, especially from mining, hazardous and radioactive wastes. It has provided trainings on remediation associated with closure of mines, and on cross-border transport of hazardous waste.
UNEP assists countries to implement ecosystem-based adaptation (EBA) measures to reduce vulnerability and build ecological and social resilience to climate change risks. An EBA Decision Support Framework is under preparation to assist planners and decision-makers select, design, implement and track EBA approaches as part of a wider adaptation strategy.
UNEP has developed sustainable building guidelines through its Sustainable Buildings and Climate Initiative (SBCI).
The UNEP Finance Initiative has established the Principles for Sustainable Insurance, a global framework to link sustainability in the insurance sector, and has documented best practices from the sector in promoting sustainable investments that yield risk reduction or resilience outcomes, such as reforestation insurance coverage and urban river restoration for flood management.
Membership in Key Networks
PEDRR
UNEP is a founding member of the Partnership for Environment and Disaster Risk Reduction (PEDRR), a global partnership of 15 other international and regional organizations, that promotes ecosystem-based DRR and adaptation.
IRP
UNEP is a Steering Committee member of the International Recovery Platform, which identifies gaps and constraints experienced in post disaster recovery and serves as a catalyst for the development of tools, resources, and capacity for resilient recovery. IRP aims to be an international source of knowledge on good recovery practice.
AGEE
The Advisory Group on Environmental Emergencies (AGEE) is a biennial global forum that brings together key government, industry, academic, and non-governmental representatives – policy makers, environmental experts and disaster managers – from around the world to improve prevention, preparedness, response and overall resilience to environmental emergencies.
ENVSEC
The Environment and Security Initiative seeks to reduce environmental and security risks through transboundary cooperation among countries in four regions: Central Asia, Eastern Europe, Southern Caucasus, and South-Eastern Europe.
UNEP Finance Initiative
UNEP FI is a global partnership between UNEP and the financial sector. Over 200 institutions, including banks, insurers and fund managers, work with UNEP to promote linkages between environmental and social sustainability and financial performance.
National Counterpart
National and local authorities responsible for environment and natural resource management; development and land-use planning; disaster management and preparedness; HFA focal points; National Platforms for DRR
Disaster Risk Reduction Focal Point(s)
UNEP Post-Conflict and Disaster Management Branch (PCDMB)
UNEP DRR Focal Points – Ms. Muralee Thummarukudy / Ms. Marisol Estrella
Websites
http://www.unep.org
http://www.unep.org/disastersandconflicts/
http://www.unep.org/climatechange/adaptation/
OCHA Environmental Emergencies Section (Joint UNEP/OCHA Environment Unit)
http://www.unocha.org/unep
http://www.eecentre.org
http://www.pedrr.net
http://www.envsec.org
http://www.unepfi.org/about/index.html
11, Chemin des Anemones 1219 Geneva Switzerland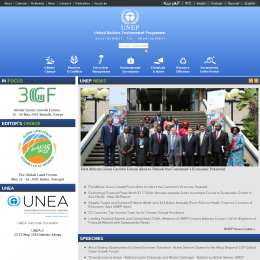 Badges
Conferences:

- 2017 Global Platform
- AMCDRR 2016