Mission
The UN Office for Disaster Risk Reduction (UNISDR) was established in 1999 to facilitate the implementation of the International Strategy for Disaster Reduction (ISDR). UNISDR was mandated "to serve as the focal point in the United Nations system for the coordination of disaster reduction and to ensure synergies among the disaster reduction activities of the United Nations system and regional organizations and activities in socio-economic and humanitarian fields" (UN General Assembly Resolution 56/195). With the adoption of the Hyogo Framework for Action 2005-2015: Building the Resilience of Nations and Communities to Disasters (HFA), the United Nations General Assembly tasked UNISDR with supporting its implementation. UNISDR also organizes the Global Platform for Disaster Risk Reduction (UN General Assembly Resolution 61/198). UNISDR has its headquarters in Geneva and implements its mandate through five regional offices based in Asia (Bangkok), Africa (Nairobi), Europe (Brussels), Arab States (Cairo) and Latin America and the Caribbean (Panama). UNISDR also maintains a UN HQ liaison office in New York, a liaison office in Bonn and presences in Kobe, (Japan), Suva, (Fiji), Incheon, (Republic of Korea), Almaty, (Kazakhstan) and Rio (Brazil).
Disaster Reduction Goal
UNISDR vision is a world where the social, political and economic imperatives for reducing disaster risk are acted on. UNISDR mission is to connect governments and partners; to produce evidence for disaster risk reduction; to mobilize decision and opinion makers; and to support strengthening of the resilience of nations and communities to disasters and the impacts of climate change.
Policies and Programmes in DRR
At the UN Conference on Sustainable Development (Rio+20) in June, disaster risk management was embedded in the outcome document, "The Future We Want", as an imperative for sustainable development. It included an endorsement of the need to incorporate the reduction of disaster risk into sustainable development frameworks. In 2012, the UN General Assembly requested UNISDR to facilitate consultations for the post-2015 successor to the Hyogo Framework for Action 2005–2015. Over 2012, consultations on the post-2015 framework for disaster risk reduction ("HFA2") were organized involving a series of meetings and events and an Advisory Group was established. The culmination of the first phase of the consultations (from March 2012 to May 2013) are reflected in a Synthesis Report at the Fourth Session of the Global Platform on Disaster Risk Reduction in May 2013. The Global Assessment Reports (GAR11 and GAR13) highlight the political and economic imperative to reduce disaster risks, and the benefits to be gained from doing so. Over 130 countries are now reporting on implementation progress in the HFA Monitor, which helps them to identify their own gaps and needs when it comes to reducing disaster losses and building the resilience of their communities. Information on progress against the HFA and other disaster risk reduction information is made available on the common portal www.preventionweb.org. The Making Cities Resilient Campaign exemplifies the "multiplier effect" of UNISDR's work. In 2012, the campaign exceeded its targets for mobilizing new members. 389 cities and municipalities joined the Campaign in 2012, bringing the total number of signatories to 1,289 in more than 85 countries since its launch in 2010. Many self-organized assessment missions and city-to-city learning events took place over the year. The Regional Platforms and other high-level regional gatherings showed their worth in building understanding and galvanizing action around disaster risk reduction and development, bringing together diverse stakeholders who otherwise would be addressing the issues in isolation. An example of this impact was the Fifth Asian Ministerial Conference on Disaster Risk Reduction, in October 2012, which the President of Indonesia opened with a strong call for action. This event was attended by 2,500 delegates from 72 countries. The Conference Declaration called on countries to integrate local-level disaster risk reduction and climate change adaptation into national development planning, strengthen local risk governance and partnerships, and identify accountability measures for more effective implementation of a post-2015 disaster risk reduction framework. Other regional platforms include, the Regional Platform for the Americas in November, the third annual meeting of the European Forum for Disaster Risk Reduction, in October 2012, and the Pacific Platform for Disaster Risk Management in September 2012, which assessed the implementation of existing regional mechanisms for disaster climate change risk management. In 2013 regional platforms were held in Africa and in the Arab States. Under the auspices of the UN System High Level Committee on Programmes (HCLP), the SRSG to convene a senior management group to prepare a UN Plan of Action on Disaster Risk Reduction for Resilience that embeds disaster risk reduction more securely in UN policies and programmes. The Action Plan was developed in the last quarter of 2012 with the active involvement of 29 UN agencies and was endorsed by the Chief Executives Board (CEB) in April 2013. UNISDR, through its Regional Offices worked with Resident Coordinators and UN Country Teams to integrate disaster and climate change risk management in UN Development Action Frameworks (UNDAF). In 2012, Bolivia, Cameroon, India, Jordan, Moldova, Nepal, Pakistan, Sri-Lanka, Sudan and Togo approved new UNDAFs that feature disaster risk reduction as critical for development planning. The number of UNDAFs referencing disaster risk reduction in the Americas has increased from three to ten: Argentina, Brazil, Chile, Bolivia, Colombia, Costa Rica, Cuba, Mexico, Peru and Jamaica. Since the formal approval by the UN of the operational guidelines for integrating disaster risk management into UNDAFs in 2009, 54 countries have drawn up such plans. Over half of the plans have extensively incorporated disaster risk reduction and climate change adaptation. As an example of on-going UN coordination efforts, in Asia, UNISDR's Offices worked with UN Country Teams to develop Strategic Action Plans, review country progress in recovery planning, and refine the UN Strategic Framework in Cambodia, Indonesia, Myanmar, Pakistan, Philippines and Vietnam, along with a new regional UNDAF in the Pacific, which features key disaster risk reduction elements. Stronger cooperation with UNDP and UN Resident Coordinators proved valuable in Djibouti, Lebanon and Mauritania, where it enabled UNISDR to strengthen disaster risk reduction implementation. View UNISDR 2011 profile
Membership in Key Networks
• Inter-Agency Group on Disaster Risk Reduction (IAG) • Partnership for Environment and Disaster Risk Reduction (PEDRR) • International Recovery Platform (IRP) • Global Framework for Climate Services (GFCS) • Thematic Platform on Knowledge and Education (check name) • Global Wildland Fire Network (GFMC) • International Consortium of Landslides (ICL) • International Flood Initiative (IFI) • Global Earthquake Model (GEM) • Thematic Platform on DRR and Health
National Counterpart
National focal points for the implementation of the Hyogo Framework for Action
Disaster Risk Reduction Focal Point(s)
Mr. Neil ISDR McFarlane, Chief Regional Programmes and DRR Coordination (mcfarlane2@un.org, Tel: +41 22 917 89 14) Mr. John Harding, UN Relations and Coordination Officer (harding@un.org, Tel: +41 22 917 79 06)
Websites
http://www.unisdr.org http://www.preventionweb.net
Physical address: rue de varembe 9 -11, CH-1202 Geneva, Switzerland Postal address: Palais des Nations, 1211 Geneva 10, Switzerland 1202 Geneva Switzerland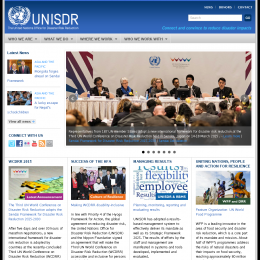 Badges
Conferences:

- 1st ACDRR
- 4th Annual Meeting of EFDRR
- 5th AFRP
- 6th AMCDRR
- 2nd ACDRR
- 5th Annual Meeting of the EFDRR
- 6th Annual Meeting of the EFDRR
- UNISDR Science and Technology Conference