Mayors and Local Governments at the Global Platform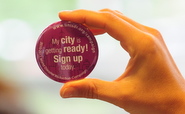 The Global Platform provided a forum for local government leaders to exchange expertise and discussed among themselves, with senior UN officials and national government representatives about strategies to involve different stakeholders, and to raise awareness to reduce disaster risk and to make cities safer and more resilient.

Local government representatives emphasised that the "ten essentials for making cities resilient" constitutes an important guide for disaster risk reduction implementation at the local level. A number of cities initiated plans for mutual cooperation.

Supported by campaign partners, local government representatives reiterated their commitment as a "core group" of champions to take the commitments of making their cities, local governments and communities resilient to disasters, and pledged a number of concrete actions to support the implementation the "Making Cities Resilient" Campaign in the coming years. The local government leaders agreed on the Mayors' Statement on Resilient Cities which was presented in the closing session in addition to the Global Platform Chairs' Summary.

The 2011 World Cities Scientific Development Forum (11-13 August 2011) and the First Mayors' Summit on Disaster Risk Reduction will take place in Chengdu, China, and will provide a platform to discuss the commitments made at the Global Platform in more detail.